So I left the blogging world for awhile. Needed a break. Not sure if I'm coming back regularly to the blog but I'll update it from time-to-time. In the meantime, you can follow my Pinterest boards if you'd like. I'm on there daily, pinning inspirations (not the same as perspiration). And because of my wacky work schedule so I can beat traffic (we move into a new building 10 miles closer in Feb), I have abandoned my blow dryer and flat iron and have finally embraced my naturally curly hair. Ta-da!
Let's see... when I last left off, we had a new rescue puppy. Well, she's all grown up and in college now. Pre-med. She weighs around A-FREAKING-LOT. My guess is around 25-30lbs. She's super hyper and whiny when she has to be crated, or in this case, a large pen situated in our dining room. But we love her so much. She is such a good girl and so lovey. She adores other dogs and tolerates cats. Putting cat heads in her mouth makes her feel pretty happy.
And that's my segue into our other rescue story. We had a very busy summer. My sister adopted a cat for my nephew and not wanting to be outdone by my baby sister, I asked the hubs if we could also get a cat. Not wanting to be outdone by his sister-in-law, he exclaimed, "Let's get 2!" So yes, we ended up adopting two cats from St. Francis Rescue in the Tampa Bay area.
I now present to you Mr. Nutmeg and Sir Fender (or Fen Fen, but not Phen Phen cause that was outlawed).
And here's what the little bastards have done to our beadboard wallpaper THROUGHOUT THE ENTIRE HOUSE.
I'm slowly replacing every inch of it with the real stuff. I really need a nail gun and compressor to finish the walls.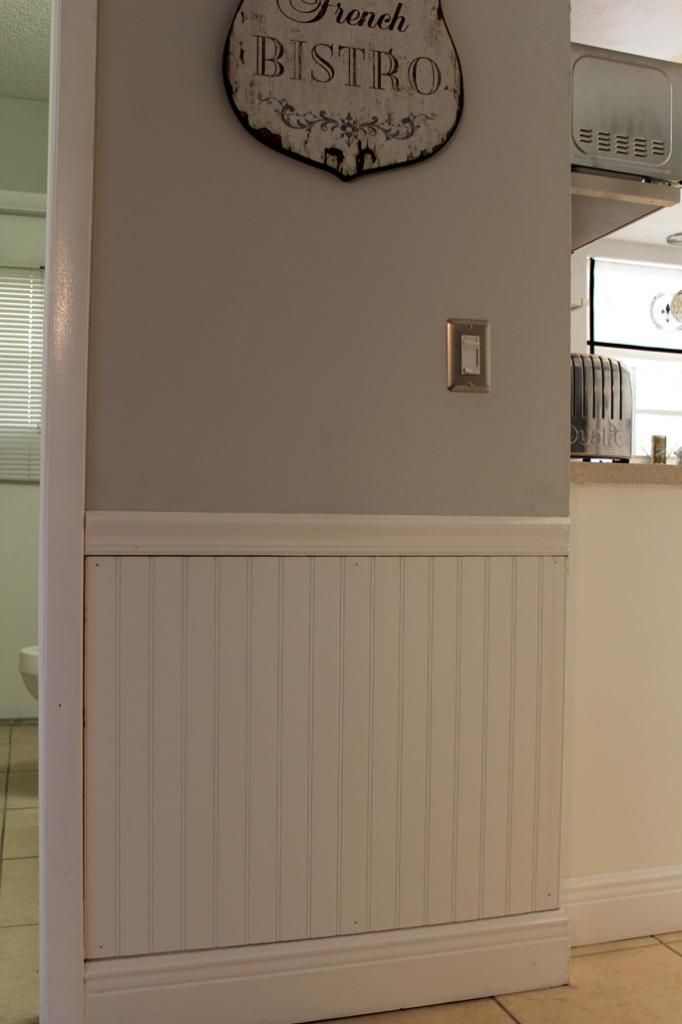 And how are the home improvements coming, you may ask? Well I started tackling the kitchen again. I'm putting an industrial/shabby chic spin on it. I know it's not for everyone, but I really wanted open shelving so that everything is out in the open. Our round ceiling pot rack wasn't working. Unfortunately, we have low ceilings and I needed to find a solution that would work. So I tore out the upper cabinets on one side of our kitchen, filled in the holes in the drywall, spackled, sanded, painted, and hung our new stainless steel Ikea shelves.
I also started ripping off the yucky, greasy, decade old (or more) thermofoil on the base cabinet doors. I primed the doors and painted them in Benjamin Moore Simply White. Inside the cabinets, I added some pull out Rev-a-Shelf chrome inserts for spices and pot lids. I also added some Ikea dividers in one cabinet for baking pans.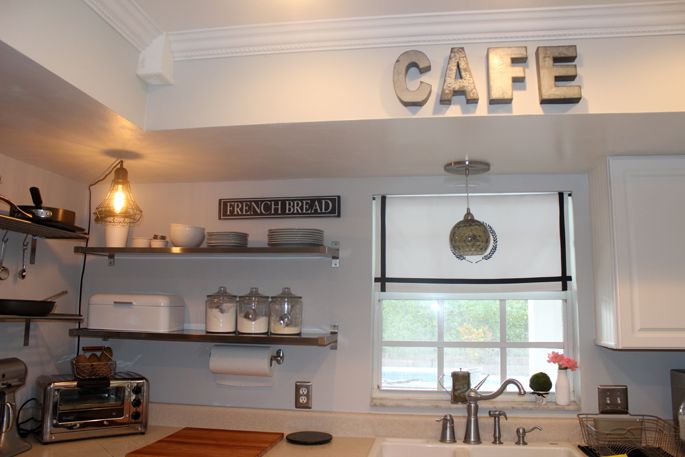 We actually discovered a ceiling exhaust hole when I removed the upper cabinets over the stove and was elated for about a day cause I could finally have a European exhaust hood and call myself fancy pants. But because of a prior kitchen upgrade, the base cabinets were shifted so the hood would be off center. And to add more insult to my wounds, once again the ceilings are too low. So I dragged my arse to Lowe's and looked for a cover. Ended up getting an air conditioner return as I couldn't find any exhaust hood covers.
The butcher block will be going away. It was a cheap Ikea $10 block but is starting to warp. A 16x20 marble pastry slab is coming thanks to a major sale and free shipping at Sur la Table. And I'd like to replace the cutting board with one that is thicker and raised off the countertop.
I think one of the best things I did was relocate my office chalkboard down to one of the kitchen walls. We scribble grocery list items and then I take a pic of it with my phone right before I head to the store. No more little lost papers. Oh and side note, don't ever ask a young Staples kid where chalkboard erasers are unless you want this answer, "Chalkboard? I haven't used one of those since I was a kid." Whatever, just show grandma where to find it.
And yes, that vent is held on by tape. Those vent covers are $100!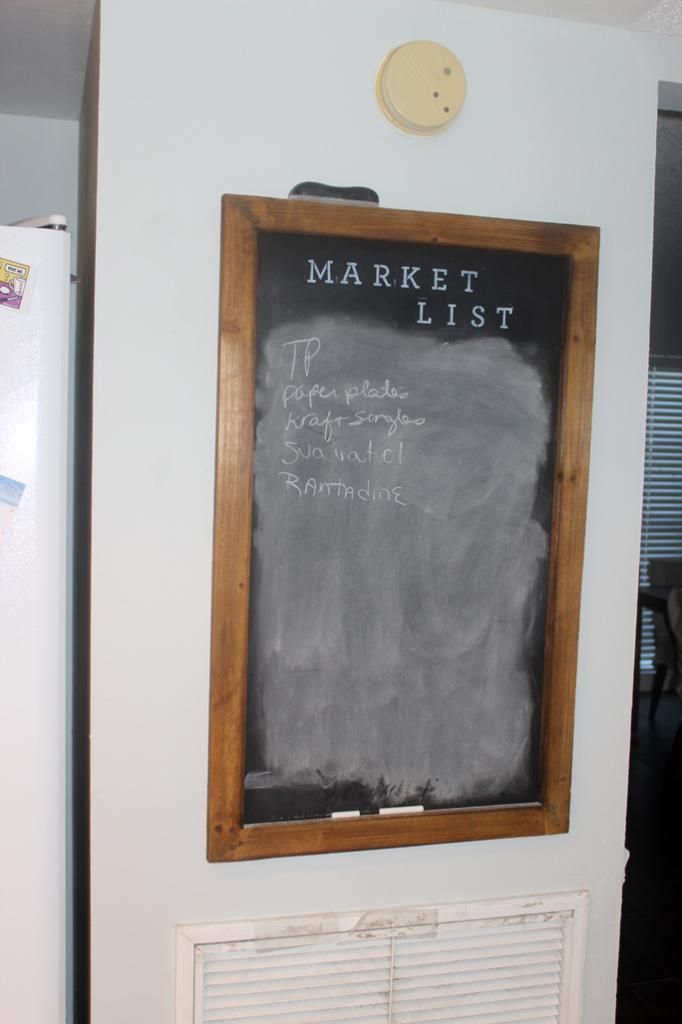 And since we are now a family of six and I'm feeding the animals three different kinds of dry food, I headed to Tarjay for more Heritage glass jars and Etsy for distressed mini *gasp* chalkboards.
And lastly, we have updated 3 out of 4 of our appliances. New mini microwave on a shelf so that the European toaster oven can once again be used (it hadn't been used since moving from Connecticut), a new GE range, and a new Whirlpool dishwasher. I'll be doing more updates next year (after the holidays). I'm consulting with a cabinet maker for butcher block countertop installation and a new sink! Then we'll invest in a new fridge. At that point, I think I'll be done with this room.