You could cover Heidi Klum in poop and she would still sparkle. I saw a commercial the other day with her in it and I thought at first it was for Old Navy. Oh no, it was for Jordache jeans. Hmm, funny. The Walmart Jordache special I'm wearing here doesn't make me look anything like Heidi. But they are comfy and my new favorites. Yeah, I know, Walmart jeans. Get over it.
When I was 13, I would have killed for a pair of Jordache jeans. I remember a particular meltdown Christmas fest cause I couldn't open my Christmas gift, which I just knew were Jordache jeans cause that's the only thing I asked for that year. I would go to middle school and switch out my yucky jeans for skinny minny redhead's jeans in the bathroom before the first bell rang.
This curvy gal has been reunited. And it feels so good.
And who doesn't love a 40% off sale on jewel-covered sweatshirts? I first noticed this bedazzled specimen in August on my business trip to NYC. But like all things at J. Crew, eventually it all goes on sale. I like to wait about 6 weeks til it's 40% off. It may not be "in season" but what is that for this Floridian? Over the last few days there's been a slight dip in the temps, which means only one thing - well maybe two - you can wear long sleeve shirts without looking like a freaknut and better hair and the camera doesn't fog up. Okay that's three. I can pretty much wear jeans any day at work. However, it has to be with a company shirt, except Fridays where it's a free-for-all. Since I had sister time Friday night at Mugs N Jugs (they have great boneless wings), I thought this would be a good outfit. Probably a little overdressed, but hey - the cooler temps have arrived! I gotta fit in whatever I can before it shoots up into the 90s again.
Cheers!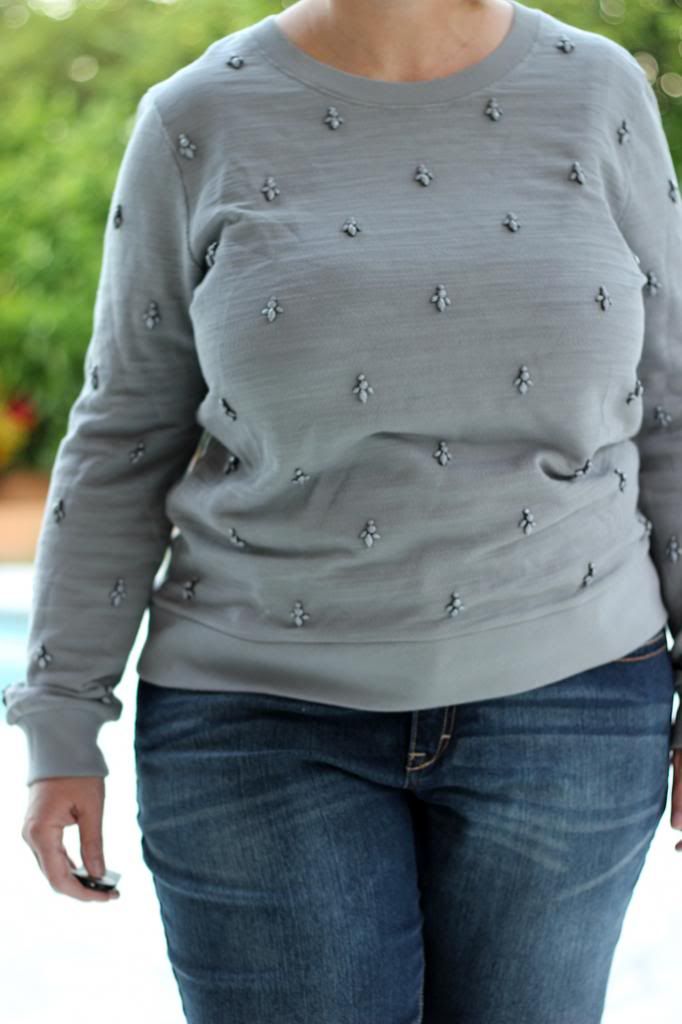 {Sweatshirt: J. Crew | Jeans: Jordache | Shoes: Donald Pliner | Lips: MAC Current and Sweet Succulence}