It's not July 4th anymore. What the heck am I doing wearing red, white, and blue again? Feeling guilty for not posting a full theme week? Nah. It's just what I grabbed in my closet that didn't have my company's logo on it. And it's happening. I'm getting schlubby again. Yeah, it's a word. A word for lazy and not caring about my wardrobe. Damn company logo shirts!
I also think it's a combination of feeling like I'm in limbo with this house stuff. We have three more weeks to go but it feels like forever. Trying to lock down homeowner's insurance yesterday. Of course our insurance agent didn't like one of the pictures in the wind mitigation report. Our inspector sent another picture (with arrows) showing what she needed to see but we'll see. He said it's the first time in 10 years he's been asked for this information. Who knows? I don't know who to believe on stuff anymore and frankly hubby and I are just over all of this. Tired of living on $150 between paychecks to make sure we have enough for down payment. We literally went no where this past weekend. If you leave the house, you spend money. Yeah, there's free things to do. But you still spend gas moolah.
We are also down to one car. My car went boom. Last week I did my one weekly $7 lunch splurge and bottomed out in a very deep pothole. Car started rattling something fierce. So it sits at our apartment until we can use our credit cards again to get it fixed as we don't want to tap into our down payment money.
So sorry for being Debbie Downer but we just don't have much going on in our lives right now that doesn't involve constant stress and worry. Bare with me for another three weeks. It will get better. It has too or I'm gonna stress eat into the big girl stores.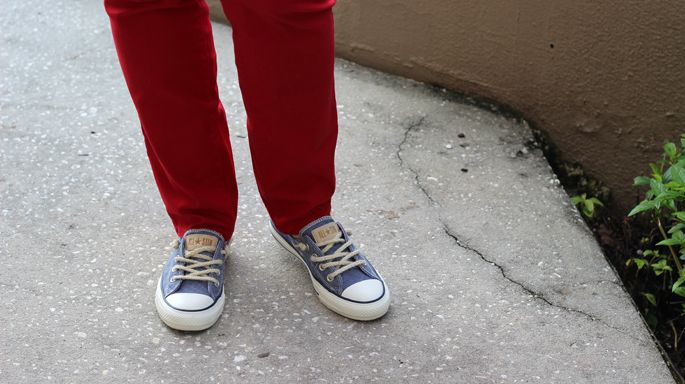 {Tee: St. James for J. Crew | Pants: Old Navy Rockstar | Necklace: J. Crew | Shoes: Converse | Lippies: Nars Dragon Girl}