Sorry about yesterday. Nothing I can really do when it rains. I don't have room or proper lighting in the apartment to take indoor shots as we are packed in there like sardines and my husband usually doesn't have to get up until I leave in the morning since he works from home. And while the rain drops started when I took these pics, I was determined to get a few quick shots before any real downpour. I told my sister that I don't remember June and July being like this; days and days of rain. She just smiled like it was no big deal. I remember afternoon thunderstorms that scare the pee out of me and rattle the windows. I remember August and September being the absolutely worst, wretched months to even think about doing outdoor activities (and typically this is when we get a lot of tourists wanting to stand in line for hours in a deluge of sweat at Disney - God help them). But I don't remember having to take a kayak to work each morning.
It will be nice when we get out of this weather pattern and I don't have to pin my hair back anymore. And thank goodness it's finally growing. I really do think there's some magic in the coconut oil I use in my hair along with my conditioner. And be kind to your hair if you straighten it and bleach it like me. Only blow dry in the medium speed. Yes it takes longer, but your hair won't feel like straw. Deep condition once a week as well. I can feel the difference when I don't leave heavy Phyto conditioner in my hair overnight.
On to the festive outfit. Except for the cheapy iron on lobster, the quality of this Factory shirt is much better than the striped ones I was purchasing. Much softer. I'm a sucker for anything lobster, crab, anchor, or anything that shouts sea life or boating. And the thing is, I haven't been to the beach since we first moved here. I'm just not one of those FL transplants that likes to fry themselves. I've see the damage on some of my parents' friends and other people I know. It's not pretty. Usually when I go to the beach it's for a couple of hours and then I'm done. The beach will be even further (it's about a 30-45 minute drive now) when we move to the Brandon area.
We are now in the underwriting phase of our loan. This is the phase that troubles me the most because it's now in the hands of an individual that will verify everything. Our local lender reassures us that our loan will be approved. I'm hoping it does. Luckily we were smart enough to lock in our interest rate a week before rates skyrocketed. I would recommend a couple of things if you are going to buy a house:
At the bare minimum: make sure your credit scores are at least 650+.

Make sure your debt-to-income ratio is less than 40%.

Make sure you have at least $10K saved or the bare minimum down payment of 3.5% (at closing you will need one full year's worth of homeowner's insurance + 2 months of homeowner's insurance + 2 months of taxes for escrow. These things could easily add up to $3-5K).

You will also need an earnest deposit when you go under contract ($2-5K).

Make sure you pay all bills on time (and do so for a year prior to applying for a loan).

If you have a bankruptcy, short sale, or foreclosure, etc., you'll need to wait at least two-three years before thinking of applying for a mortgage loan.

Go with a local lender rather than a big bank. You'll get more attention and their reputation is on the line.

Be prepared to hand over tons of documentation (W2s, tax returns, pay stubs, bank stubs, application, letters of explanation, prior HUDs, divorce decrees, etc.).

Keep money set aside for inspection ($300-400) and appraisal ($500) as these are upfront costs.

Do not use credit cards (except for the appraisal) at any point during the loan process.

Do not deposit large sums of money into your bank account in which you cannot explain the source.

If you have any delinquent taxes, those must be paid before closing (repayment plans are ok).

If you receive gift money from family, it must be accompanied with a letter.

If you need help paying your bills, get your family to pay the bill directly (you have to stay on top of all bills during this time), rather than giving you money. Anything other than your income showing up as a deposit in your checking account (oh yeah, make sure you have a job and keep it during this timeframe) will have to be explained to the underwriter.

Be prepared to sign one-off documents like tax transcripts requests. Another one-off document, if you work from home, HR will need to provide a letter (on company letterhead) stating that you can work anywhere. Be prepared to have days go by without knowing what's going on with your loan. If money is tight, be prepared to live off a budget.

Only buy what's necessary during this time period. Do not buy anything (like furniture or a new car) until after you close. Doing so will lower your credit score and your loan could be denied.
These are just some guidelines. Obviously not all of these apply to our situation but it's what I could think of while going through this process. Buying a house is extremely stressful and you need to find ways to relieve that stress. For me, I started back up at the gym. But I also started eating desserts each night. Does it help my weight? Nope. Does it negate the gym workout? No, it evens out. Yeah, that's my story. Does it give me a little bit of happiness before bedtime? Yep. Since going out to eat (unless you consider McDonald's as a possibility) isn't really a possibility, nor is shopping, I've turned to cooking, cleaning, and catching up on TV shows/reading as my outlets. This process can drive you mad so you have to find something to help pass the time so that you and your spouse don't rip each other's heads off during the process. And on that note, Happy 4th of July everyone!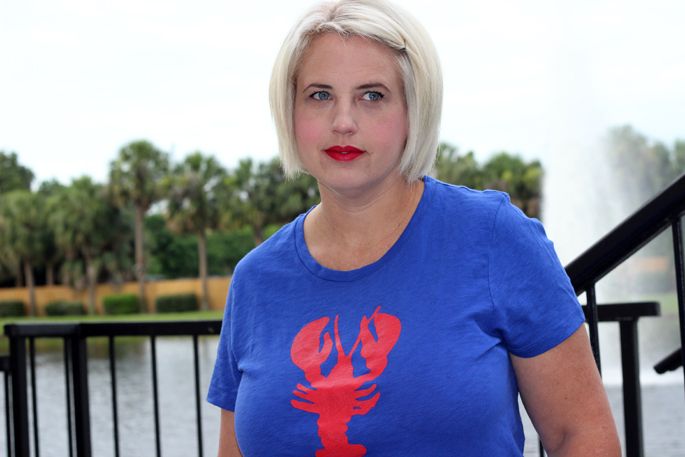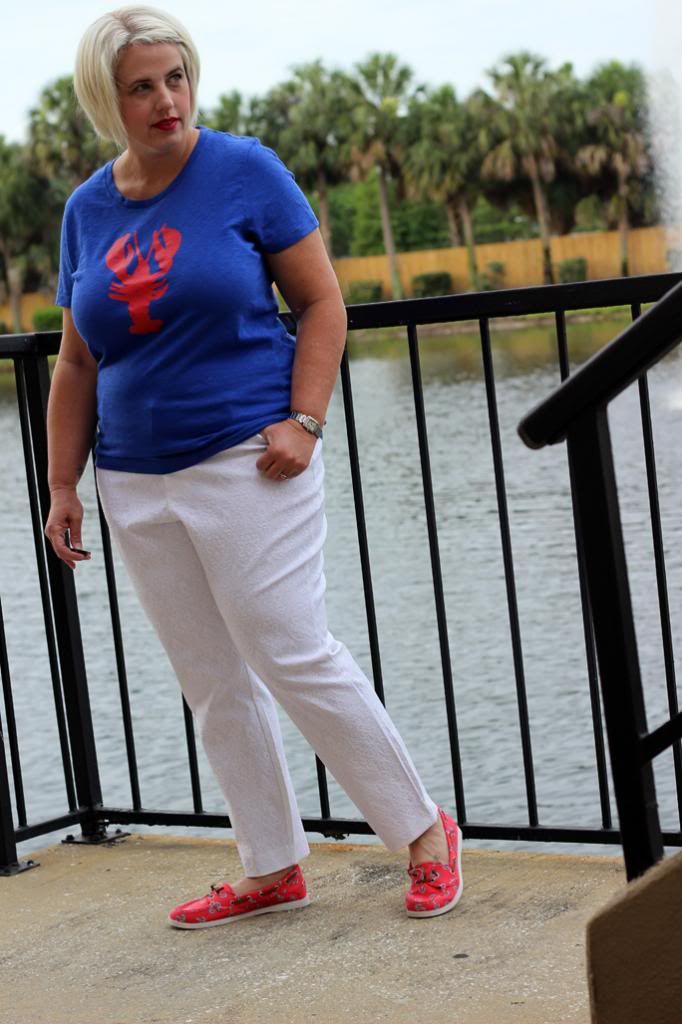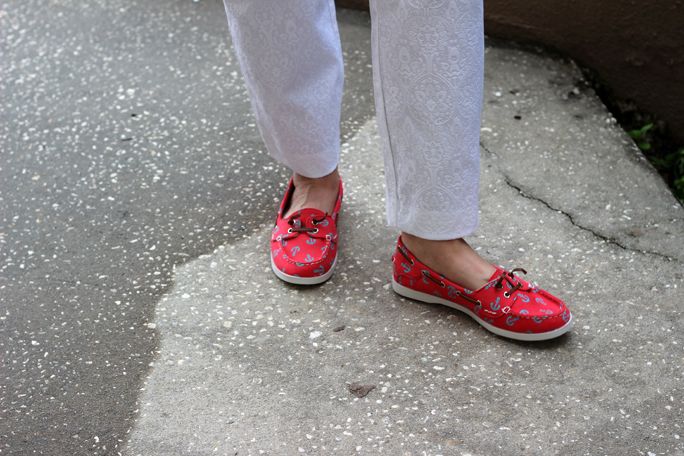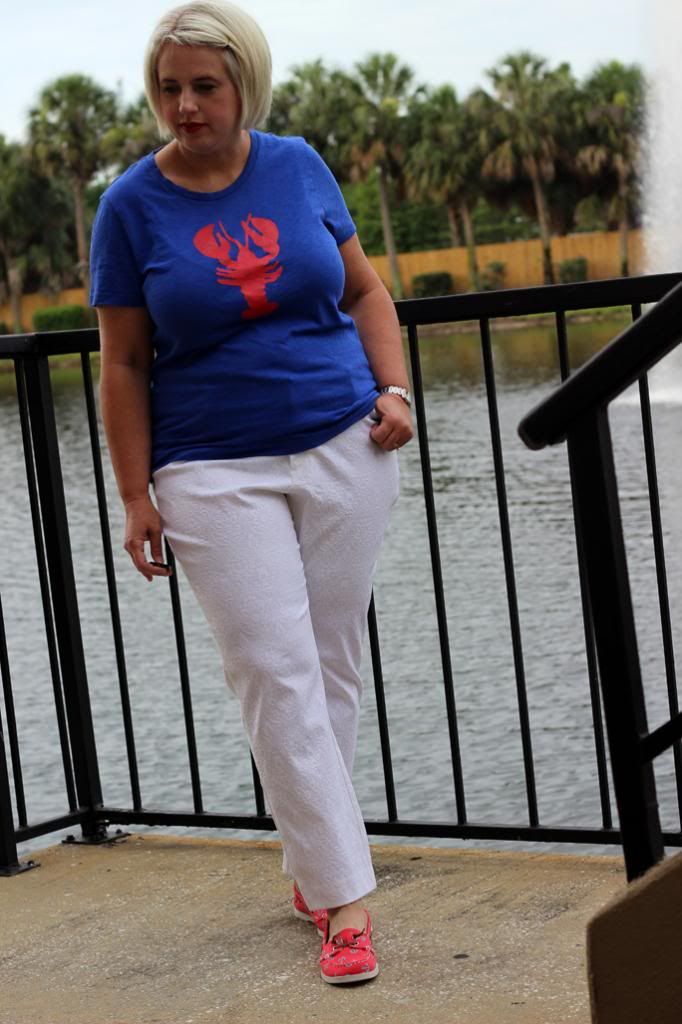 {Tee: J. Crew Factory | Pants and Shoes: Old Navy | Lippies: Nars Dragon Girl}