Just getting this post in under the wire. I feel like Dave Matthews. I have 'so much to say' today. Since this is a short, holiday week for a lot of us, I thought I'd do a theme week as it's been awhile. This will be Patriot Week (or basically a lot of red, white, and blue). I don't wear a lot of scarves (not really necessary in FL) but I just love this one. Although it's from Old Navy, it's not blatantly patriotic like their $5 tees. I love that it's gray and burgundy rather than white and red. Makes it a bit more wearable throughout the year, no?

And how cute are these FREE Chucks? Yep, free. Well, I paid $1.40 for tax. My sister dragged me out of my slump on Saturday to go to a 'crapbooking' store in downtown St. Pete. I was afraid we weren't going to get parking as there was a big parade going on. Turns out, we didn't have any problem getting parking due to the downpour. It's been raining pretty much non-stop for the last week. Not only am I having to fight the condensation on my camera but also dodge getting peed on by trees and water on the upstairs landing.

So sister and I stopped by a consignment/thrift store on our way as I had a $20 Groupon to use. Just as I was making my last round in a desperate search for anything, I stumbled across these brand new chucks in a size 7. They were $20 and my Groupon was $20. Sold! My sister ended up finding the cutest green and yellow halter dress for a summer wedding.

After being Queen for the Day (my late grandmother's saying for spending the least amount of money at garage sales), sister and I headed downtown. We had lunch at a Thai restaurant that had the most delicious Pad Thai and green curry. I am obsessed with green curry. Let me preface this with "I hate curry." I do. I can't stand any other curry. But green curry is sweet and delicious and smells and tastes nothing like it's yellow brother from a different mother. My Korean friend, Jill, turned me on to green curry and now I can't stop. Thank goodness Thai food is plentiful in this area. I've had it from four different places in the St. Pete area and the one in downtown St. Pete was by far the best. There's also another place close to where we are moving that has really good Thai food as well.
After lunch we ventured to the crapbooking store. Just as sister was checking out, I noticed they had fine art brushes. I've had to ditch using the liquid eyeliner for my winged eyes as the humidity and heat is making the eyeliner travel up my lid. I've had to go back to gel eyeliner (MAC Blacktrack Fluidline) as it seems to stay put under steamy conditions. But I'm not impressed with my MAC 210 eyeliner brush. It's too fat, too many bristles. A quick Internet search seem to yield the same results in other brands. But at the crapbooking store, I was able to find two very fine brushes (10/0 and 18/0) that are perfect for my little droopy eyes. And at $3.95 each, quite a bargain.

After a quick trip to Sam's club, my sister took me home and that's where I stayed for the remainder of the weekend. When you can't really spend money, cleaning, cooking, and a lot of TV watching and reading fill up the weekends. It's gonna be like this for another long month. We did get our 28-page appraisal report Friday night, much to our surprise as our lender has been less than stellar in the communication department lately. We asked three times when the appraisal will happen. Our new house was appraised for... wait for it, the full contract price. Now a lot of y'all may be saying, "That's wonderful. It didn't under appraise." I'm saying, "This is a bullsh*t. We paid $475 out of pocket for someone to make the numbers work so that the deal will go through." How does a home miraculously appraise for the negotiated selling price? What a bunch of hooey. The whole mortgage industry is just plain crooked. No wonder so many people are under water. It's such a convoluted process with so many acts, laws, and guidelines that it's no wonder the sub-prime market was taken full advantage of. If you don't read and question everything, it's very easy to get railroaded.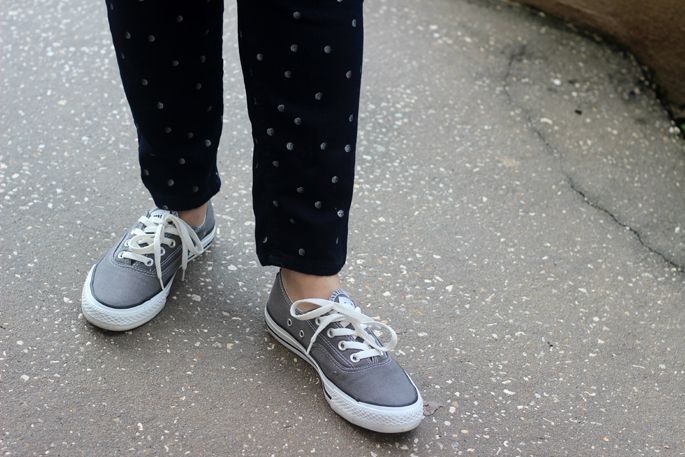 {Pants: Gap | Scarf: Old Navy | Tee: Asos | Shoes: Converse | Lippies: Nars Dragon Girl}