Oh my f'ing hell! Hubby and I just got done completing a 55-page mortgage application with our lender to get everything going and on to underwriting. I cannot stress enough how much I hate this part of the process. And my husband hates it even more. If we didn't like this house so much (our forever FL home) in a seller's market where good homes in the $200-400K range are being snapped up the day they hit the market, we might think otherwise about going through this process so quickly again.
I now carry two legal folders jammed packed with financial info, contracts, etc. with me to work every day since I never know which piece of info will be needed. And every day it's something new. It doesn't help that our W2s are tucked away in some box inside a 9x20 storage unit. Thank goodness I have a good standing relationship with former employers to obtain what I need.
And I'm sorry I'm bitching about this but it has consumed us for the last few weeks and will continue to until the end of July. So you may not want to read my posts until, say, August?
Now on to the outfit. We had some executives in the office today so I thought I would dress up a little. I call this the Barbie outfit and when I wear this dress again, it will be over jeans as it's a little too short for my taste when I'm sitting.
It's also getting harder to keep my camera from fogging up in the mornings. There's such an extreme difference between the temp inside our apartment and the humidity (hence the bobby-pinned hair) of the outside temp. So bare with the pics for another couple of months. I've got great lighting inside the new house for days when it's too humid to go outside and snap pics. And wait til you see the view. Can't wait to show you guys. But we need to get through the inspection this Sunday and the appraisal.
Oh and let's talk about some hair stuff. I've taken my mommy's advice and am flipping out the ends a bit with my flat iron. But one of the things I've incorporated since the damage from the last bleaching is Extra Virgin Coconut Oil that I bought in the vitamin section of Walmart (GNC has it as well). I use a handful each time I condition my hair. I combine it with my conditioner. Not sure if the claims are true about helping your hair grow or stopping breakage, but it does make my hair incredibly soft. I can tell the difference when I don't use it. On the weekends I like to use my purple shampoo to neutralize the yellow brassy tones and then deep condition with some leave in condition and my coconut oil. I leave the conditioner (Phyto + Kerastase) in overnight.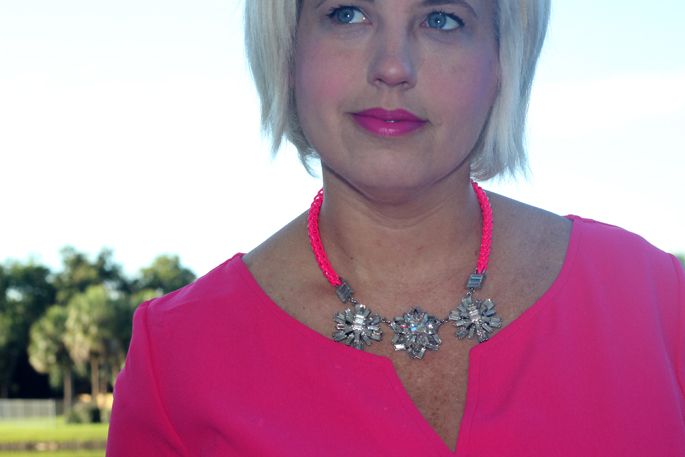 {Dress: H&M | Necklace: Kate Spade | Shoes: Alice and Olivia | Lippies: Nars Schiap}