$0.00 that's what I saw early this morning on our lender's website for our principal balance. It's done. The Connecticut house is gone, gone, gone. And we are so happy and relaxed. Our plan is to spend the rest of the year in the apartment, paying off debt and saving, and then we'll start looking for our forever home. In the meantime, we are able to start doing some of the things we love. For me, it's going out to eat. That's really high on my list of must-dos. I love eating and drinking wine with my husband and my family. And this weekend, I'm spending Saturday with my mom and sister getting makeovers and having lunch. Should be a fun day that I'm looking forward to before jumping on a plane on Monday to Meriden, CT for a business trip. Hopefully some of my girlfriends will come get me Wednesday night for a nice dinner out and to catch up since I haven't seen them in almost a year.
For the last 8 months, I've felt stifled and guilty for spending money on myself. I no longer feel that way. Four of my credit cards will be paid off this week and I'm on a roll. When I'm able to contribute to my 401K, I'm putting in as much as I can. My plan is to be debt free in the next couple of years. Life is good, job is good, lady luck is on my side.
I struggled with these pants, though. Peach is about the least favorite color I like to wear. I think it signifies all things old lady Floridian. Want peach pants? Go to Beall's, Macy's, or Steinmart. Heck, add a few flamingos or palm trees for the full effect. So these Old Navy lobster pants hung in my closet for about a month. And I love, love, love lobster clothing. So cute, so New England-y. I knew I didn't want to wear a peach shirt or anything light with these pants as I didn't want to appear old lady-ish. And I wanted to dress this up for work today. And get this. Some of the women in my office are abandoning their company logo tops in favor of better looking work clothes. I might be starting a trend! One
girl said, "Those are J. Crew pants!" I replied, "Actually, they're Old Navy but look like critter pants, don't they?!"
Excuse the hair. We've had about 5" of rain over the last two days.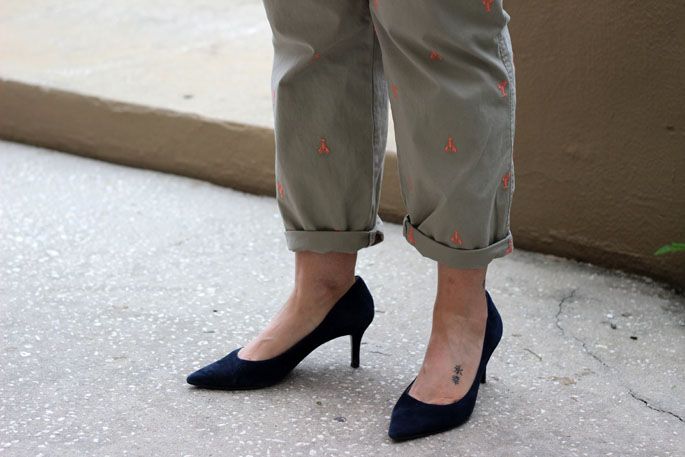 {Pants: Old Navy | Peplum: Inc | Shoes: Nine West | Necklace: H&M | Lippies: Revlon Fire & Ice}