Remixing scheemixing... it's like leftovers. After awhile you just get tired of eating leftover Easter ham. So no remixing today. It's all new! And we have about 4 days until we close on the sale of our house (fingers crossed). I'm so ready for that phase of our life to be over with. And I'm totally digging my new job. They love me, I love them. It's all good.
So let's talk about these one-size too big mustard pants (although if I don't go back to the gym soon, I'll have to retire the majority of my wardrobe). I forget why I was in the mall this past weekend. I think I was just bored and roaming. I came in through Sears and quickly bypassed the skin-tastic-Kardashian collection. No, Bruce, your step-daughters really don't have any talent. But they make for good mindless TV when I'm binge eating. I have been searching for over a year for mustard colored pants. And these were 70% off the clearance price. I paid under $10 for them. I took them home, washed them, and threw them in the dryer on high in hopes of a little shrinkage. And a little is what I got. Oh well. A belt helps. And I guess I could always get them altered. But I know I won't.
But the dilemma today

was how to take fall colors and make them appropriate for summer. Shoes and accessories! I truly believe you can do this with any fall/winter colors. Throw on sandals, add a bright lip, and throw in some spring jewelry.
And let's talk about the dress code at work. Some of you were asking about it yesterday. Okay, here's the deal. Jeans are allowed but only when worn with a company shirt. The first shirt is free and the next are 1/2 off. So there's a bunch of little clones walking around in a sea of schlubness. As Daryl Hall says, "I can't go for that. Noo--oooooo. No can do." Not digging the Kenny Rogers look, Daryl. And one of my co-workers asked me yesterday, "You do know about the dress code, right?" I replied, "Yes, but I have a lot of nice business clothes in my closet so I'll keep jeans to Friday's only." Seriously. I'm not going back to that way of dressing. I dressed that way for way too long and it got me fat, lazy, and fuggly. No thank you.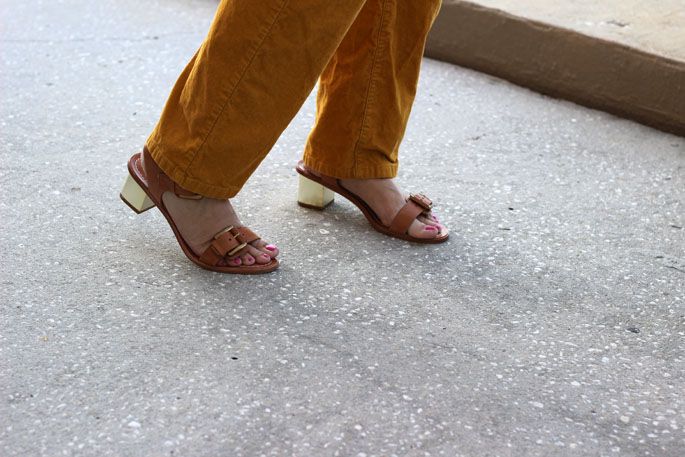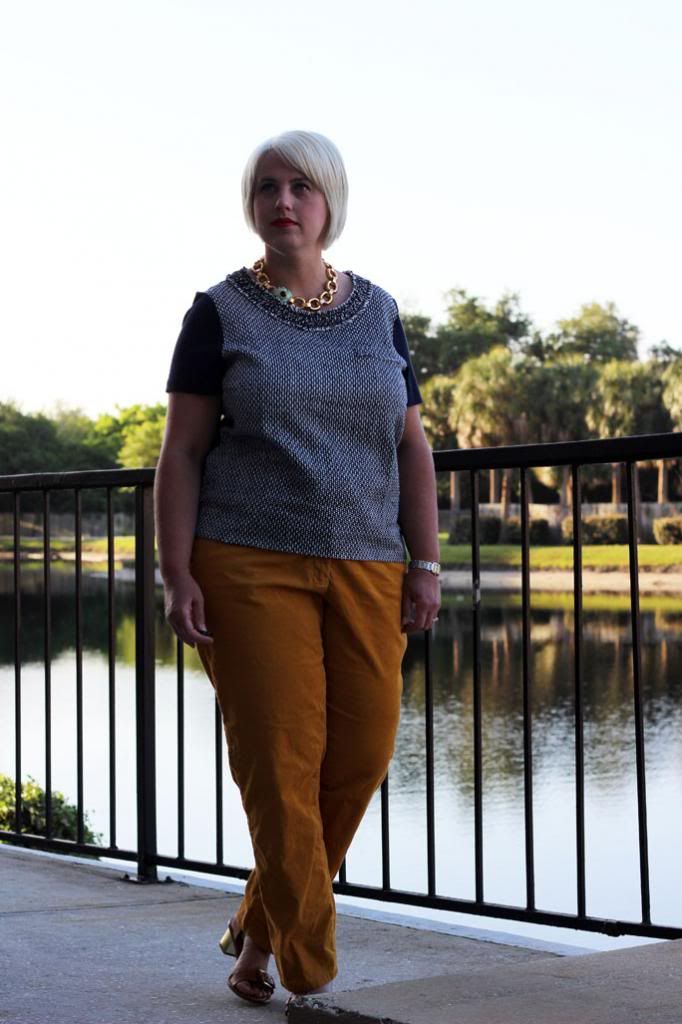 {Shirt and Necklace: J. Crew | Pants: Land's End | Shoes: Pour la Victoire | Lippies: Revlon Fire & Ice}