Ugh. I think these pants will have to be rotated out of my wardrobe. Shame. They are fine through the thigh area, butt, and hips but they have the extended flap in the front that you have to stretch across the belly to attach to two hooks. That was long winded. They hook, rather than button. I used a safety pin for comfort and they are sitting below my stomach pooch like a redneck with a beer gut. So attractive.
Although we're not getting pummeled with snow like our mid-west relatives, we are seeing low temps for this time of year. And some crazy winds. Aren't palm trees just supposed to glisten in the sun? Or sway violently during hurricanes? And since I can't grow any flowers at the apartment or grow the types I used to up north (although daisies will grow here - yay!), I've been buying tulips and daffodils in potted containers. There are two types of shrubs/bushes/flowers I will miss and I'm so glad I took lots of pictures last year in front of my forsythia and hydrangeas. Hydrangeas are the first plant I put in our garden when we moved to CT. I've wanted to grow them since taking a small pot of them home from a business trip to Boston years ago. People thought I was nuts and were a little annoyed as I was in the middle seat with this potted plant sitting on my lap like a small, purple child. Of course, it didn't survive long in my air conditioned house. Had I tried to put it out in the yard, the sun would have burned it up like a vampire. We had one year where the temps in CT stayed at 90 degrees for several weeks and my hydrangea burned up for the summer. They came back the next year but no amount of watering was bringing those suckers back from the dead.

And jury duty yesterday? Well I didn't get picked. Didn't even have to go up and sit in front of the judge. I personally think the whole justice system is retarded in this country. You pluck someone off the street who has no background in law and expect them to understand everything the judge/attorneys are saying and make a decision on someone else's life? That's just not right. Watch the Paradise Lost videos on the West Memphis Three and you'll see where I'm coming from.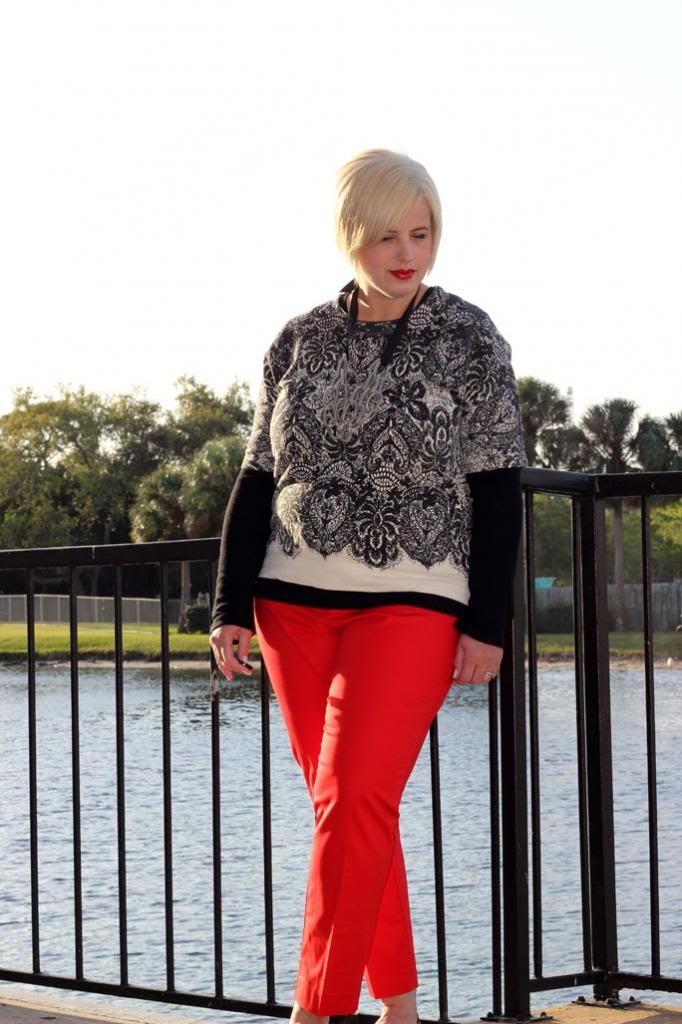 {Sweatshirt: J. Crew | Tee and Pants: Gap | Shoes: Tahari | Necklace: Thrifted}