So forget blue theme week, I've switched over to red. And apparently, it's garnering quite the attention. A woman with crazy eyes told me she really likes red on me. Hmm. Maybe I should switch back to blue. And I swore I would never wear this MAC Prince Noir lipstick to work again, but it's really working with the lighter hair. I don't feel so goth. Just feels like a dark red.

These pants are a bit weird. I got them from Dorothy Perkins for $12. They are awesome to look at - looks like real lace over red pants (the back is just black). But they feel like a plastic/cloth picnic tablecloth. Remember those? The ones that grandma would put on her kitchen table and wipe down with a sponge after goulash? Oh my grandma's goulash was the best - for a kid. If you promise not to share the recipe with anyone, I'll give it to you. Ready? Elbow noodles, ground hamburger, ketchup (or catsup). Yep. That was Sunday dinner at grandma's when I was young and would stay with my dad for the weekends. Ahhh. memories.

The pants are comfortable but the waist is huge. I have a big gap in the back. Nothing a blazer won't fix! So now when someone asks you the best fashion advice you've ever received, you can say, 'Niki says a blazer fixes everything." Bam! Instant trend setter.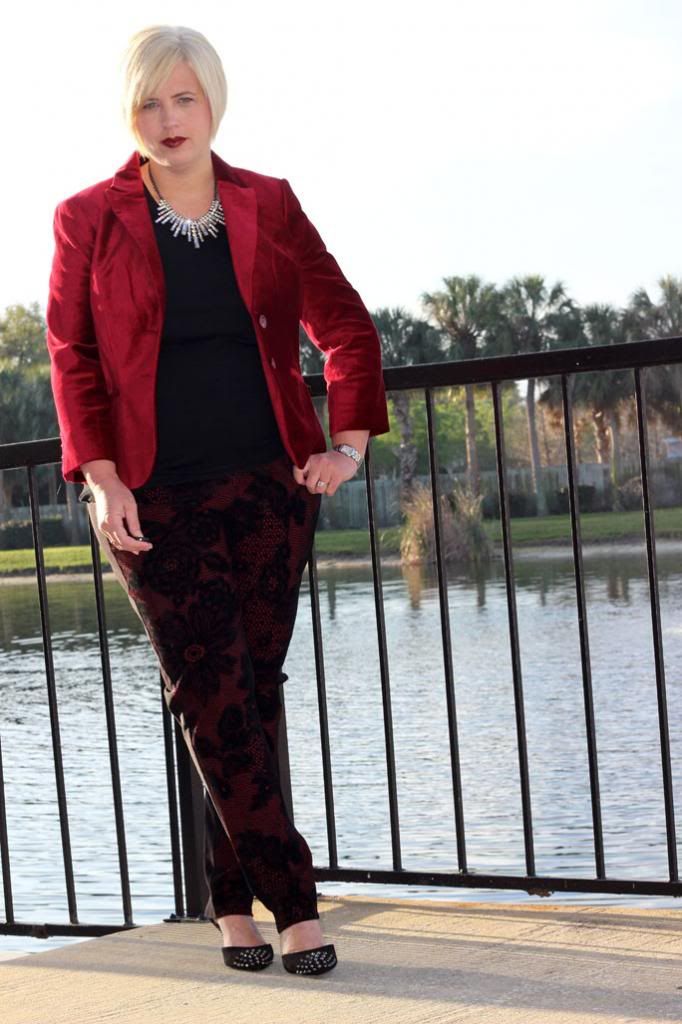 {Blazer: The Limited | Pants: Dorothy Perkins | Tee: Gap | Necklace: Forever 21 | Shoes: Zara}