I'm being followed by a moon shadow, moon shadow, moon shadow.
Wow! Really dating myself there! But my jeans just look like there's little moons on them. And they are soooo comfortable. Got them for $14 at The Gap in the clearance section. I thought this would be a perfect outfit to showcase how to break out of your comfort zone and do a little pattern mixing. So the denim leggings have a dark blue base color. The stripes in the shirt are the same color. The dots on the jeans are metallic silver and are relatively small. Because they are metallic, they look almost white.
So give this a try - find a bottom with small dots, be it a skirt or pants. Use the base color of the skirt as the stripe color in your shirt. Keep proportion in mind, keep within the same color spectrum, and no more than two or three colors. I've got navy, white, and silver going on in this outfit. And I wasn't going to add a jacket but it's unseasonably cold this week. I've had this denim jacket since I lived in CT and really thought it would go with a lot more, but then I get self conscious and back out of wearing it for fear of looking like I'm back in high school.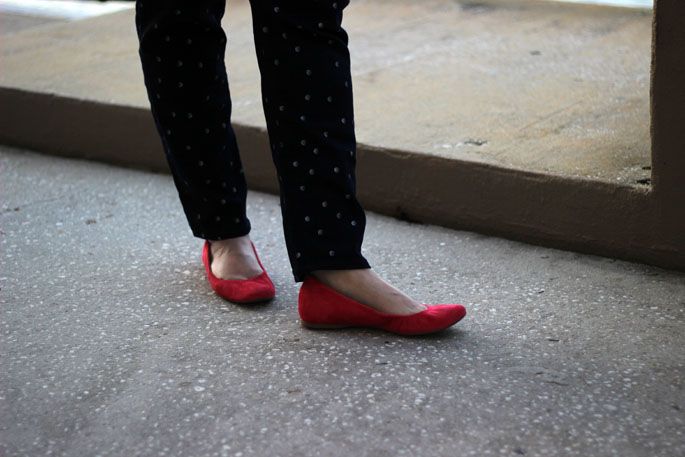 {Jeans: Gap | Tee: St. James for J. Crew | Necklace: Kate Spade | Jacket: Ralph Lauren | Shoes: J. Crew}