Got the 'ol hair did this weekend. Was extremely nervous about it and I am still getting used to it as it has taken me by surprise. This is the first pass. Couldn't get it all up to a platinum level but will next time when I visit for root regrowth. I also kept the front a little longer than I thought I was going to. I'm thankful to my stylist for that. I've gotten a lot of support over this new color and cut. Can't believe my sister said she liked the color. She doesn't like the back and wished I had just kept the back the same length as the front. But my hair grows like a weed so I'm not worried. Plus I've cut the trying time in half. So here are the before, during, and after pics.
Processing...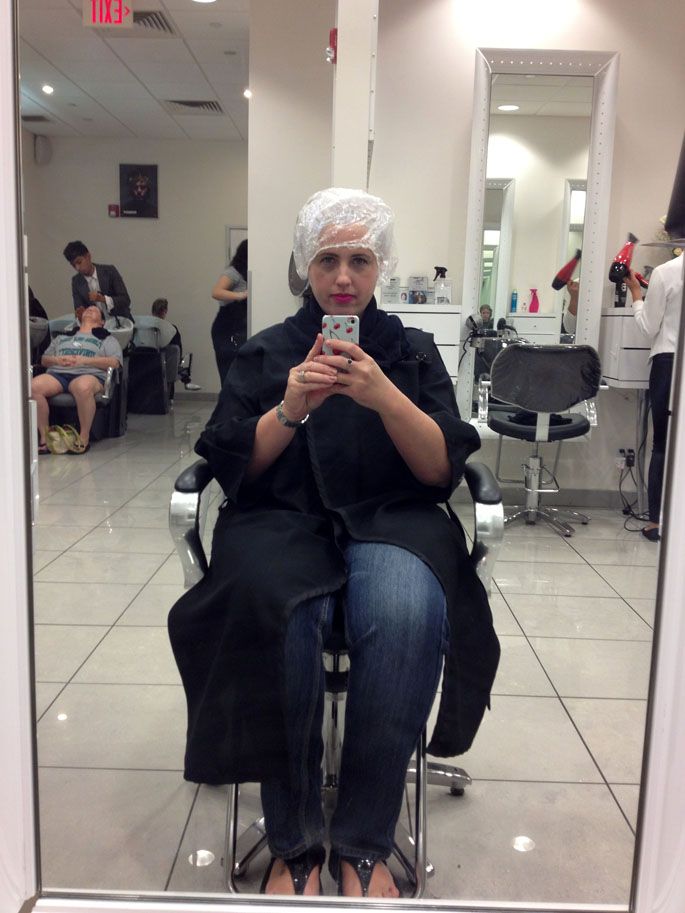 Finished
Before going to the salon, my mom and I were supposed to go on a food tour in St. Petersburg. We had difficulty getting the organizer to respond to our emails and phone calls. We showed up at the location we thought the tour would be at. The tea company ended up getting a hold of the woman who said she emailed everyone the night before of the new location (a 20 min. walk from where we were). This was a Living Social deal and a Christmas gift from my sister. I gave the woman some choice words and will call Living Social tomorrow for a refund.
My sister and I met up briefly today at
FitLife Foods
. We had vouchers for some free meals. It's a nifty little concept in that they prepare healthy, but tasty, packaged meals and snacks that run anywhere from 200-700 calories per meal. I scooped up the Cashew Chicken (490 calories), Mac-n-Cheese (250 calories), and the Miami Beach Mixed Grill (420 calories). The food was actually pretty tasty. Not cheap, but perfectly portioned. I finally weighed myself this weekend. Since moving back to FL, I've gained 6 lbs. So I'm on a mission to get about 12 lbs off by mid April.
Did anyone try to take advantage of Joe Fresh launching in JC Penney this weekend? I did! And here's what I encountered on the much advertised opening day. Bastards!