Although my cuticles have not settled down yet from the bleaching (still a bit Puff-Daddy looking), they are a little more calmed down than yesterday's nest. Too bad the weather tonight is humid and yucky. To my surprise, I received a ton of compliments on the color and cut today. Those that didn't like it did the awkward, "Do you like it?" to which my co-worker and I make fun of. We don't know if it's just an American thing where if you feel awkward and can't find something nice to say, you have to pose it back as a question. Both of us are honest when someone asks us a question about their looks. And if we don't like something, we'll say so but we will say it with tact. Why can't everyone just speak their minds? I mean, heck, if you don't like my hair, just tell me. I'd rather you say, "You know what, Niki? I really like your hair longer (me too) or darker." I'm a big girl and I can take it. And it's just hair. It's an easy change (color-wise) and takes me two months to grow out. Keep in mind this is stage 1. When I go back for regrowth, I'll be platinum. Don't want to fry the hair.
Oh and did I say I'm hungry? Yeah, 1200 calories is a bitch. I'm hungry. When I was on Weight Watchers in 2011 I figured (through complicated mathematical equations - NO) that 29 WW points = 1380 calories. I've been pretty good for the last few days, but man oh man am I hungry tonight. So I'm going over my calorie count today cause sometimes you just gotta listen to your body. If not, I know I'll be snacking later.
And I'm thinking this might be an unofficial blue theme week.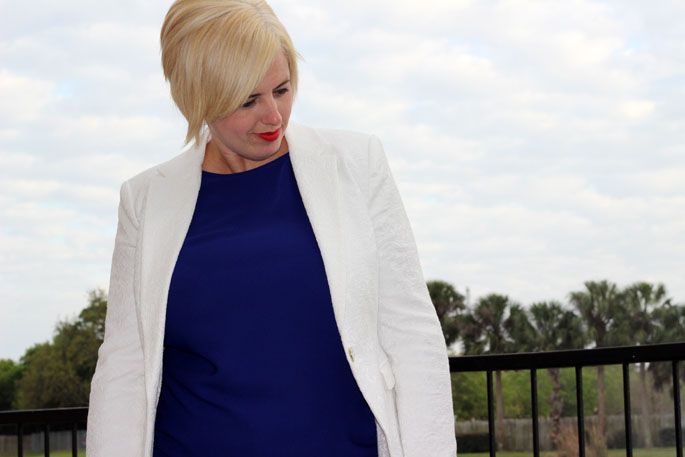 {Blazer & Tank: Zara | Pants: Talbots | Shoes: Nine West Andriana | Lipstick: Nars Heat Wave}