I wore this outfit to work on Friday. A bit dressed up for my usual Friday looks (and I don't typically take pictures on Fridays for that reason), but since being sick and looking like death most of last week, I felt compelled to erase any memories in my co-workers' minds of Zombie-girl. Yes, I had one co-worker refer to me as a Zombie. He's no longer living.

Friday was super cold for FL (43 degrees), although sometimes it does get even colder. We've had a bit of a warm streak here lately. I was wearing a sleeveless dress on my birthday last weekend when it was 82 degrees. I'm not complaining, though. Anything is better than 2 degrees, gray skies, and slipping on ice. So I decided to get as much wear out of my long, leopard jacket as I can. It's so weird how some things can hang in my closet for months and I never see the obvious combination. And then it's pretty cool when I do! Stripes and leopard always go together in the same color family. Always. So break out of your comfort zone and go for it. People will compliment you on it. And just remember - red, black, and gold/tan are very complimentary colors. Even better if you have warm skin tone.

I also had a bit of a relapse with my sinus infection on Saturday. And had very weird feelings while on my steroids. I stopped taking the steroids immediately once I read the side effects include 'psychotic manifestations' and 'weight gain.' No thanks. I'll keep on my Amoxicillin and get better with time.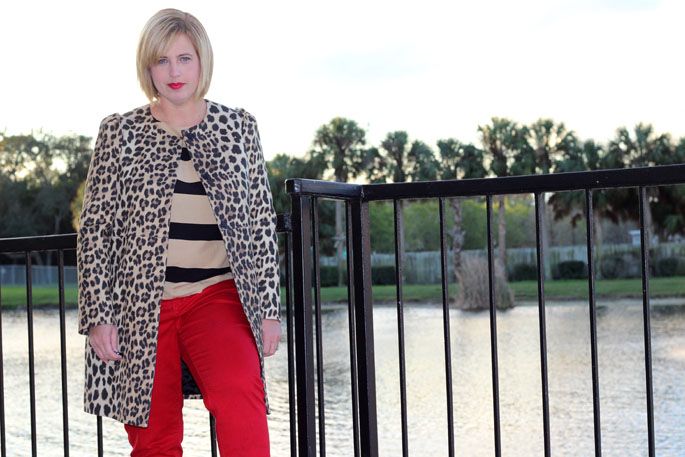 {Coat: Zara | Blouse: Asos | Jeans: Old Navy Rockstar | Shoes: Zara}