Holy painful shoes from Zara! I don't know what possessed me to make these shoes work but they are going to shoe graveyard. So what do I mean by 'make these shoes work?' Since Zara was either a train ride into NYC or a 45 minute drive to Stamford, CT, I ordered a lot of Zara stuff online when I lived up north. Because Zara is fast fashion and items look expensive but are made cheaply, you really do need to try on their shoes for fit and comfort. Zara advertises shoes sizes on their US site like we are used to seeing (6, 7, 7.5, 8, etc.). However because Zara is a European company, what arrives is 36, 37, 38, 39, etc. Back when I was fancy and wore Prada and Fendi shoes and had smaller
feet and a smaller ass (yes, they do grow when you get older), I was always a 37 in Prada, which was a 7-7.5 depending on the style.
So I ordered these shiny monstrosities in a size 8. What I got was a '39,' and they are about a 1/2 - 1 size too big. Walking around the house in them, I didn't feel any pain. But they were slipping too much. My bright idea? Gel heel liners and generic Dr. Scholls foot inserts cut to size.

Yeah, they still slip cause when I walk ever so gracefully in them, my feet push to the front and I swear I've gained a blister-bunion from these shoes. Wretched, wretched, horrible (but cute) slingbacks of Satan!

On to the outfit. I have a weird relationship with Pinterest. First off, I phonetically call it 'Pin-ter-ist' not 'Pintrist.' Second, almost every dinner recipe I've tried has turned out like crap. But the DIY section is pretty good. I mostly use Pin-ter-ist for fashion inspirations and ideas. I came across the following awhile back and thought 'I have those colors in my closet as well as the sparkly collar my sister rolls her eyes at. Perfect!' And for good measure, I hung it on my bedroom door the night before just to see sister's eyes spin out of her head. She has tiny eyes so they didn't travel far. Too bad I didn't bother to check myself before I started shooting pics. Collar's crooked. Grainy photos lately, too. What's up wit dat?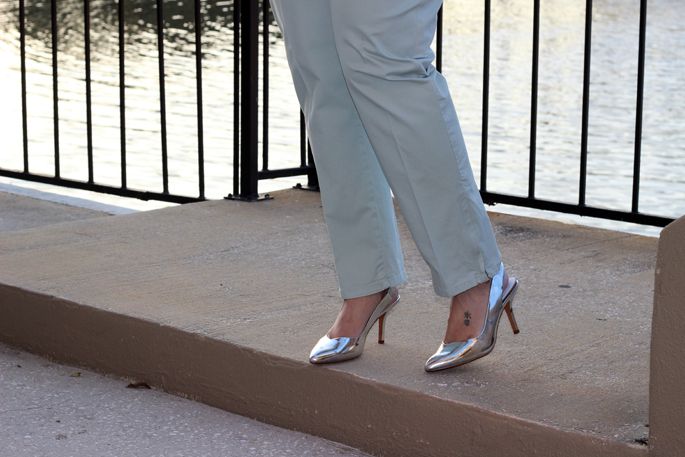 {Blouse: Ann Taylor | Pants: Talbots | Satan Shoes: Zara | Collar: Charming Charlie}