I picked a heck of a day to wear my new foot bling. Right as I was about to step out for lunch (yeah, I'm working the day after Christmas - worked Christmas Eve day as well), it started pouring. No, rain. Go away. These boots aren't made for walking...in wet puddles.

Hubby and I set a budget this year for our gifts. Originally it was $100 but then as I was strolling through Dillards, I locked eyes with these moto boots and it was love at first sight. Okay, the moto boots don't have eyes. I locked my eyes on them and then on the sales person. Okay, forget the love at first sight reference. Let's just say I wanted them super bad.

So in my 'I've been a good girl this year' voice, I asked hubby ever so gently if we could increase the budget. To which he was more than willing to do. I believe his words were, "Good. Now I can add on and get some things I've been wanting." So it all worked out in the end. And to all a good night.

My pants are the first pair from Zara that I can actually pull up over my knees. They size all the way up to XXL. However these are XL. As most of you who shop at Zara know, their clothes run ridiculously small. I own no skirts from Zara. Most of the clothes they make only fit my top half. So I was pretty psyched when I could actually wear a pair of Zara pants. I love how the gold zippers match the bling on my boots. I also love that my mom surprised me with a gift card to Zara's. Nice! Thanks, Mom!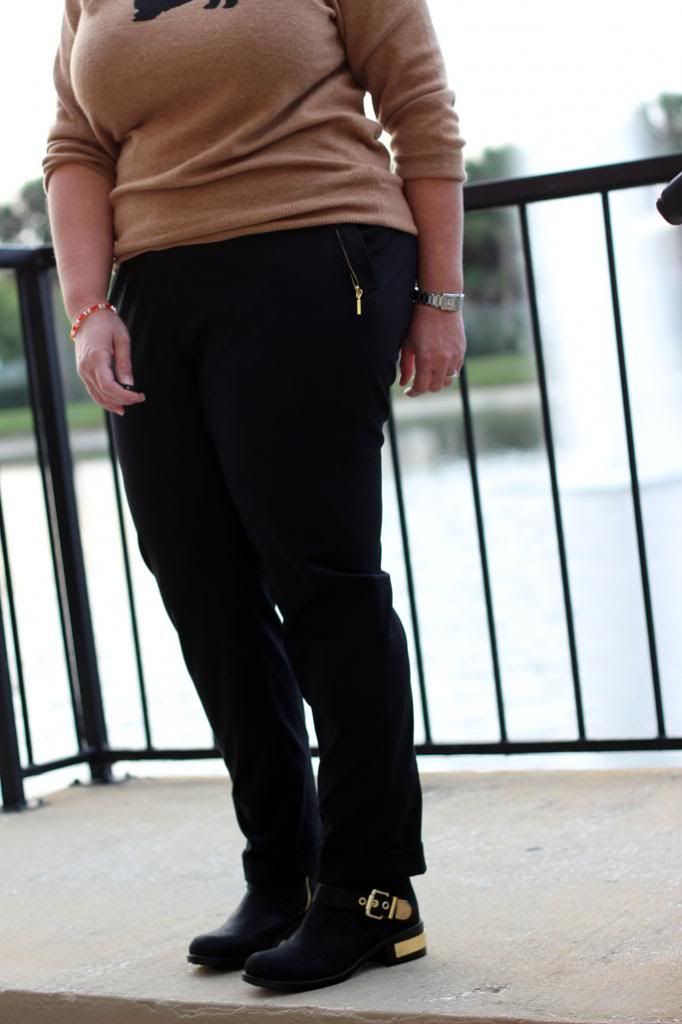 {Sweater: J. Crew | Pants: Zara | Boots: Vince Camuto Winchell. Buy them here (on sale - of course) | Bracelet: c/o Mom}