It's the crazy holiday time! You know that time where you have approximate 2-3 weekends before Christmas when you have to cram in holiday parties, charity events, family fun time, etc. before the sky falls and the world ends. I equate it to 'summer cramming' up north. Where you have 2-3 months of lovely weather and you fill up every weekend with outdoor events before the dreaded cold snap hits and days get darker earlier.

This has been one of those weeks for me. Where I'm rushing to get to events before I turn from a pretty pretty princess into a toad, pumpkin, or weekend no-hair-fixin' woman. And speaking of no-hair-fixing. Can you tell I forgot to rinse out my conditioner? Yeah, rush rush rush. Hey, could have been worse. Could have forgot to shave one leg or underarm. Walk out the door without deodorant, forget blush or mascara, or a plethora of other things I've done in the past when rushed.

This is the outfit I wore to see my mother sing in her church Christmas performance. Although raised Catholic, I don't practice any religion these days. Nor do I speak about religion on my blog as its subjective and personal. My mother's church is huge and was decorated very nicely. Apparently the church has been working and planning for over a year to bring in a very talented family called the Annie Moses Band. Classically trained and Julliard prodigies, they were amazing to watch. For the first hour. After the 15 minute intermission, they performed for another hour and 15 mins. Although a bit long for my attention span (my sister actually heard my stomach growling during the concert).
My poor mom only got to sing about three songs before being upstaged by violins, cellos, and Mariah Carey high notes. My mom was clearly robbed and deserves a do-over. As my sister, mom, step-dad, and I ate our "I'm famished let's just go somewhere" Applebee's dinner after the laser light show, my sister and I started cutting up about the performance (Annie's, not my mom's). Of course when alcohol is involved, there's no telling what comes out of our mouths. We were wondering if in this multi-talented family if there was a sibling that just didn't get the musical genes that his other six siblings and award winning composer and lyricist parents did. We were also wondering why all but one of the family members played string instruments while giving the brother a box to beat on during the concert. I said, "it could have been worse - could have been a plastic milk crate or 5-gallon empty paint bucket." Yeah, sister and I get a little obnoxious when we drink. Too bad my hubby didn't come with us. He can outdo both of us in the wise-cracking joke department.
How pretty was the lighting Sunday night for these pictures? My sister looks much better in my sheer Zara shirt than I ever did.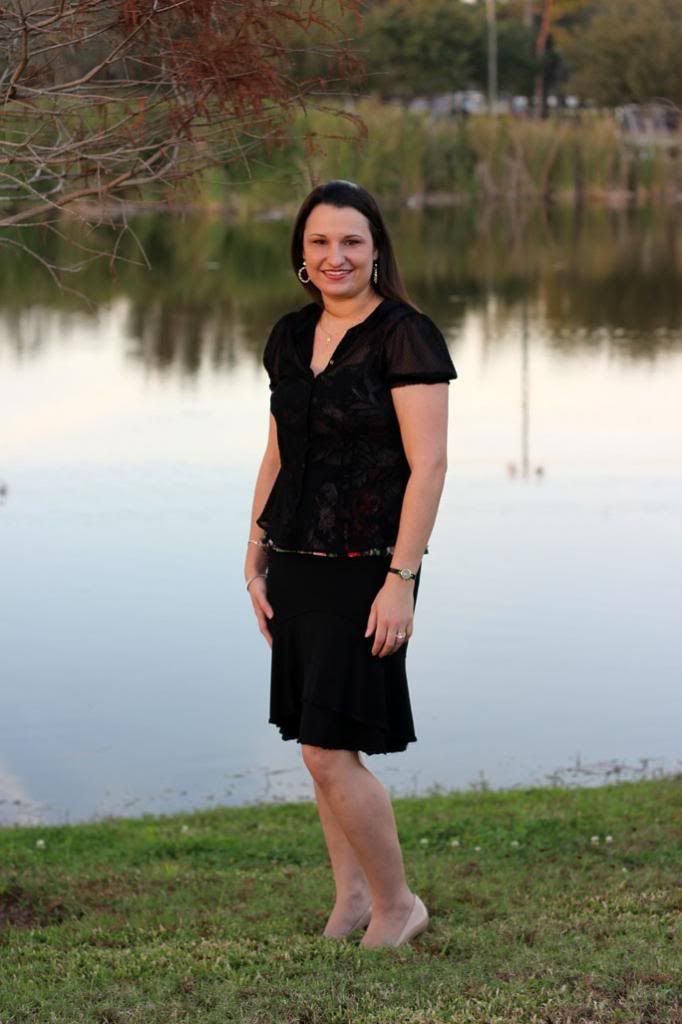 {Fish Dress: Zara | Shoes: Nine West | Lipstick: Nars Schiap | Sunnies: Ray Ban}