I've never been a big fan of the ankle bootie, especially when worn with dresses or skirts. Just never looks right on me. A lot of women can wear this look, but I wanted to show you that it just doesn't work on my body type. Although I don't have cankles, I think my ankles are too thick to wear booties with skirts.
So my next go around with booties will be with either leggings or skinny jeans. I also realized halfway through the day that I need socks to protect my ankles from the bootie cutting into my skin. I also tried this look with tights thinking I'd create a more uniform and streamlined look. However, the tights just added bulk, making my ankles look even bigger. So at lunchtime, I went home, swapped out the boots for heels, and felt more comfortable.
And I'm so disappointed in this blouse. This is the one I stalked for over a year on ebay waiting for a size 12 to appear. I removed the neckline beading as it was weighing down the front of the blouse. There's still too much fabric in the front so the blouse doesn't lie flat. Such a shame because it looks so cute on the hanger. So if I were to sum up this outfit, I'd say it was a 'fail.' The booties do nothing to shape my legs and the blouse is not at all figure flattering. Tune in tomorrow as tartan theme week continues and maybe I get the combo right.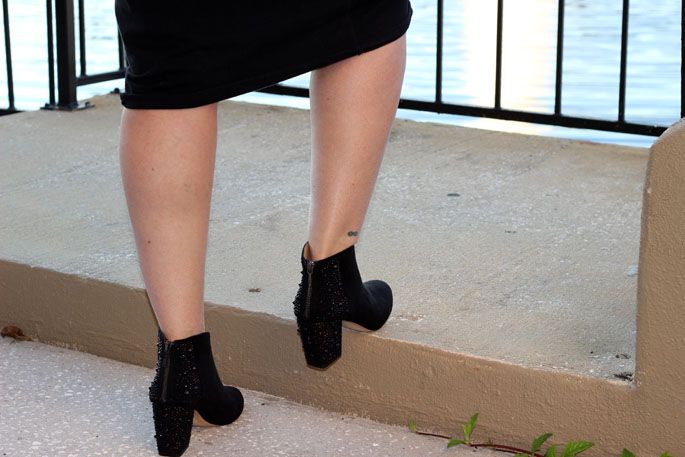 {Boots: Zara (recent) | Skirt: Old Navy | Blouse: J. Crew via eBay | Jacket: Zara | Lipstick: Besame Cherry Red}