When we lived in CT, the sun would rise pretty early in the morning, which gave hubby and I plenty of light to work with for picture taking, even in winter months. I was also on a work schedule where I could go in at any time and typically made it into work around 9:15.
Now that I go to work at 8am (yawn), we're having to adjust when we take photos. The sun doesn't rise in Tampa until 7:10. Hubby doesn't rise until after I walk out the door. Luckily, I'm five minutes from work and can come home at lunch to pose for the camera. Plus it's nice to come home, see my hubby and doggie, and eat lunch with them (and shove a load of laundry in the washer). Ahh. Such is the fancy life of a fashion blogger.
I got through all of the kitchen boxes (that I know of) and have one more living room box to go through. Spent about six hours Friday night while I sent hubby off to the beach condo for man time. We had a nice time at the condo, had a good birthday party, and hubby got to see his family for the first time in about two years. And today is hubby's actual birthday. Happy Birthday, honey!
Last night we had a little alone time, a nice dinner at Bonefish Grill (been years since he's had Bang Bang Shrimp), and didn't worry about any of the unpacking when we got home. What's on the agenda for this weekend? Absolutely nothing. I am going to catch up on much needed sleep.
I normally shy away from cap sleeves but this top was just too cute to pass up. It's from Ann Taylor and was hanging on a sales rack about a month or so ago. While most other bloggers are enjoying fall weather right now, we are still in the 90s here and it still feels very much like summer. So while I'll show you some fall clothing, it will probably be while the rest of the country is wearing their Patagonias. You won't see too many winter options from me anymore. It just doesn't get cold enough for fur lined boots and long, wool coats. We enjoy fall-like weather during the winter. And when you think about it, don't you really want to see what's under the coat most of the time?
I got these Tahari shoes from Marshalls. They're my second pair of Tahari flats. Not entirely comfortable for my sore feet, but just adorable!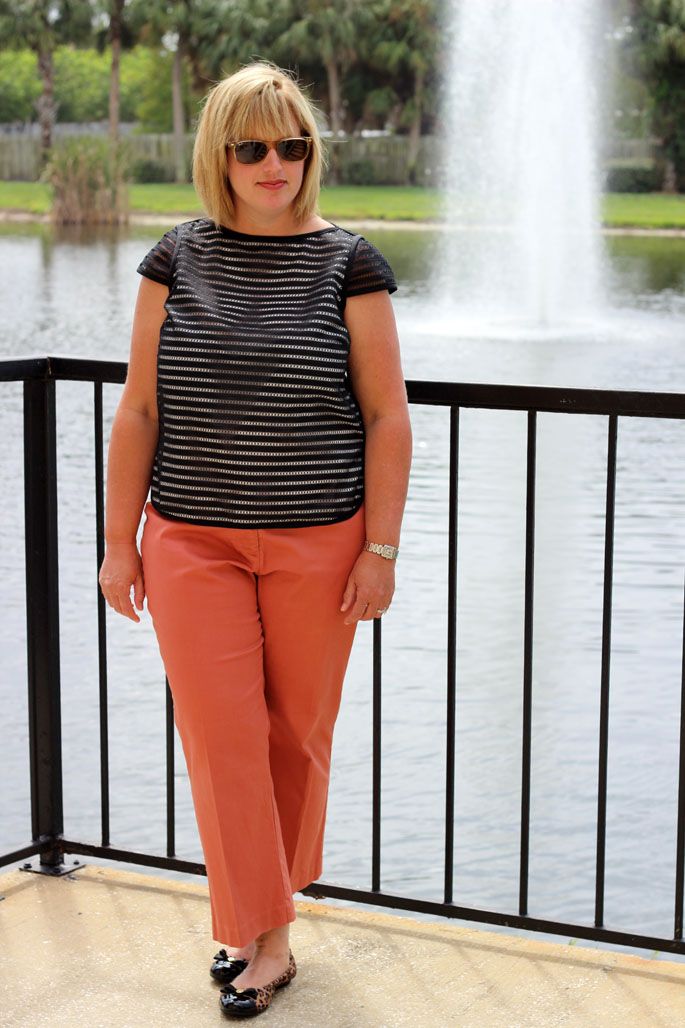 {Blouse: Ann Taylor | Pants: J. Crew | Shoes: Tahari | Sunglasses: Ray Bans}