I was pretty stunned to see mint jeans hanging next to fall colors in Target this weekend. I've been lusting after mint jeans for the last year or so and hadn't had any luck in finding hem in my size with a decent fit. So even though it's not spring or summer (technically - still 85+ degrees here), I bought them.
And I was having a hard time not matching pastels with them. I had a couple of shirts picked out but it just seemed too 'spring-y.' It's October! Most of the country experienced some pretty big dips in the barometer this weekend, although we didn't feel it here.
Hubby and I spent Sunday lounging by the pool, getting our brown berry skin back after four years of ghostly paleness. So I just couldn't justify pairing mint with pink or peach. So the only other logical fall choice? Black or gray.
Burgundy would have been a good choice as well seeing as it's a hot trend for fall right now. Unfortunately, my wardrobe is lacking in burgundy and so are my funds to buy anything in this beautiful shade. So I gotta work with what I got. Splurging on jeans at Tarjay is what I'm capable of until the CT house sells and we stop paying for two of everything.
The only disappointing part of these jeans is the back. They are a Fit 3 but as with most jeans, as soon as I bend over, you can see to China. A belt would help but if it's not wide enough, it ends up sliding up near the belt loop and bunching at the top, oftentimes escaping from my pants and rubbing on my skin. So attractive. Better option - untucked shirt and a few tugs during the day.
Hubby and I have also been doing a little visual house hunting for that lucky day when we can buy a FL forever house. I'm so glad we agree on what we want. Neither one of us like the grand, cookie cutter, stucco home with the caged in pool. Instead, we opt for a renovated bungalow near downtown St. Petersburg with an open backyard and inground pool. Since this will be our forever home, we want to take our time and find just the right house in our ideal locale. We are loving the conveniences of where we live right now. We are 10 minutes from Tampa and 15 mins from downtown St. Pete. We have everything we could ever need down 4th and 9th Street. Last night I took 10 minutes to drive to my sister's house for a quick visit to drop off a card table and see my nephew. He fed me sprinkles from his cookies. Yeah, so worth the move back down.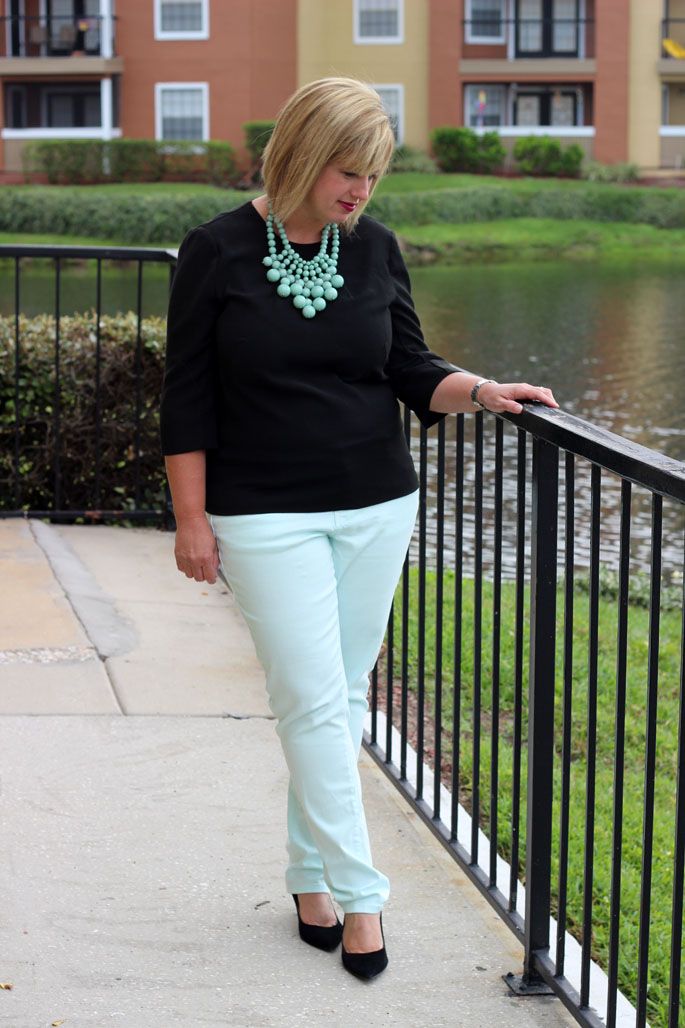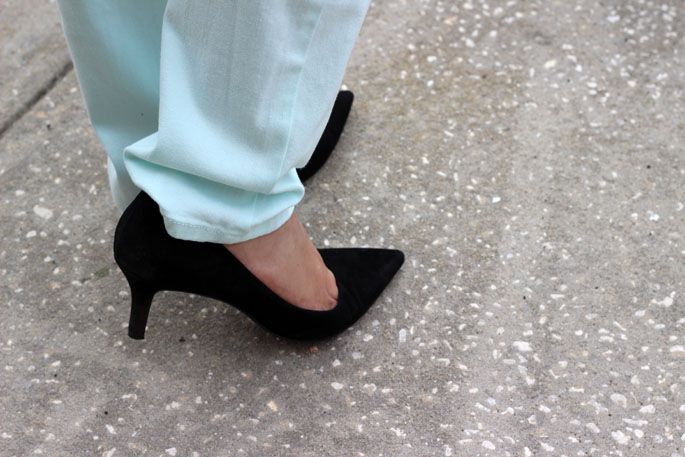 {Jeans: Target. Buy them here. | Shirt: Ann Taylor | Necklace: Bauble Bar | Shoes: Nine West Andriana | Lipstick: MAC Rebel}