"You look just like yesterday, Niki." Why yes, I do look similar in my black and gray combo. It ain't no coincidence as I bought this blazer and my shirt from yesterday at Zara at the same time. And even though this blazer had to be repaired by my mom recently (thanks Mom!), I still love it. Especially because the little tomatoes look more like pumpkins to me.
October is my favorite month of the year as it represents fall. And Halloween is my favorite holiday as it doesn't involve gifts or big meals. I love baking through the month. I'm a big fan of Williams Sonoma Pecan Pumpkin Butter and Pumpkin Bread Mix (although Trader Joe's has cheaper versions that taste the same!). I make Muir's Pumpkin Butter cookies, Pumpkin Pie (even though I don't partake in pie), individual Pumpkin cakes with cream cheese frosting, and Spice cake.
I also just ordered more Rosemary Parmesan Quick Bread and New England Chicken Stew from Stonewall Kitchen. Perfect fall food on chilly nights. I miss being able to pop into a Stonewall Kitchen store in CT. Back in 2010, I drove to York, Maine and took a class at their Cooking School. The main location was beautiful and even though it was a chilly February day, there was very
little snow on the ground and lots of sunshine.
I am also missing my fall leaves, planting my spring flowers, and the distinct chill in the air that arrives mid-October in Connecticut. However I have to keep reminding myself that all those pretty leaves come crashing down (and with it three weekends of raking), the air gets colder, the daylight quickly turns to darkness at 4pm in November, and hubby and I end up hibernating until May.
Since being back in FL, I noticed a change in both my hubby and myself. Even with the uptake in spending between our two worlds, we seem more relaxed and happy. It's a combo of daily sunshine, warm air, ease of moving around (flat roads, no stairs, no winter garb), easy access to Tampa, St. Pete, beaches, and restaurants, an abundance of warm weather, year round weekend activities, and most important - spur of the moment family visits where my nephew's face just lights up when he sees "Aunt Nay Nay." Facetime is amazing. Real time is the best!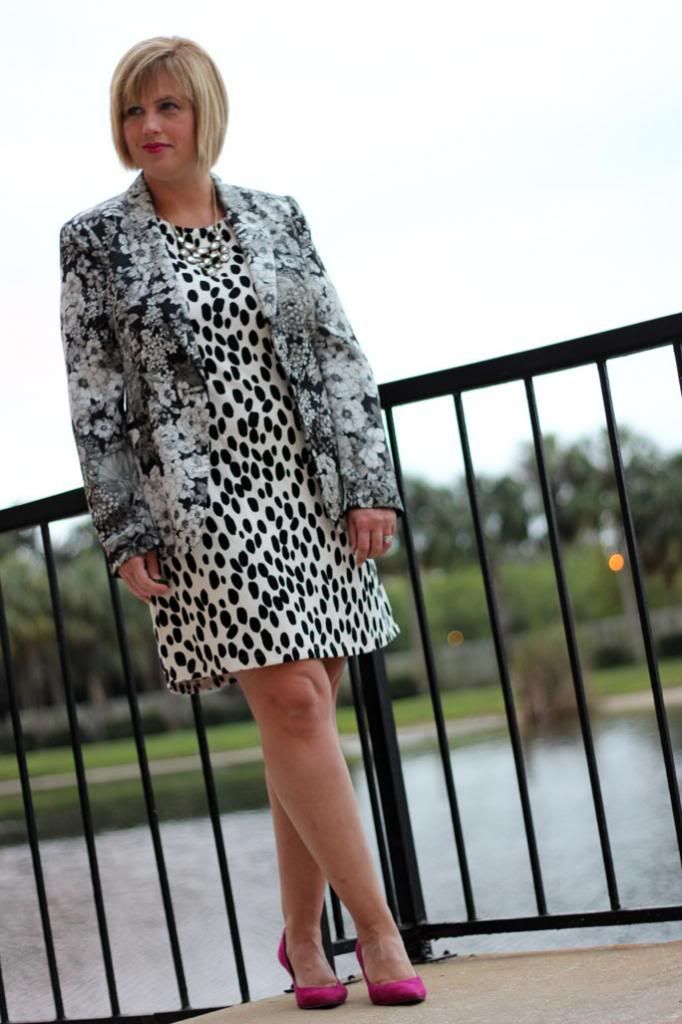 {Dress: H&M (recent) | Blazer: Zara | Necklace: J. Crew | Shoes: Nine West Andriana | Lipstick: MAC Girl About Town}