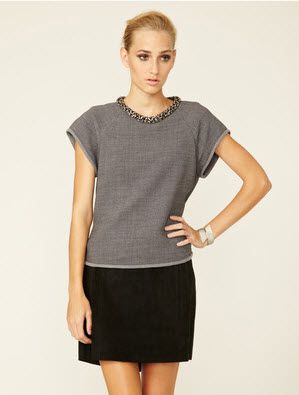 I get notifications every day from Gilt.com and MYHABIT.com. I even have the iPhone app for quick perusing. I've had success ordering from both sites (Botkier and Stella McCartney from Gilt and a few pairs of shoes from myhabit) with only one return to MYHABIT and one snafu on an order that never came (they credited my account and gave me an extra $10).
Some days I look at the sites, other times I'll let a week go by. I happened to look at the site yesterday and was in awe of this 3.1 Phillip Lim jeweled sweatshirt.
A sweatshirt in FL? It has short sleeves! And blingy rhinestone thingies. Yay! And it was marked down significantly (although still $199). And it was sold out. And the largest size was an 8.
Why oh why lovely designers do you have to only design for small women? Don't you know us 'average' and slightly above average women love designer clothes, too? Do only skinny women make enough money to afford your quality couture? Can you not spare enough fabric for a size 14 gal? Will the price triple if you have to order more fabric?
This is the reason why I haven't ordered more off The Outnet. They cater to smaller sized women. Well, maybe it's not them. Again, it's probably the designers. Same with Shopbop. I have found that some of the designers I covet only produce clothing up to a size 10. Maybe if I'm lucky I'll get a designer like Tibi who will go up to a 12. But even then, the cut tends to run small.
So back to this pretty little sweatshirt. I got an email notice Tuesday night about a take $50 off $100 Flash sale Loft was having. I've been staying away from Loft as I feel their clothing is a bit dull. So as I'm watching the presidential debate, I took my time looking through the new items. And there it was. Loft's version of the Phillip Lim sweatshirt.
Add to cart, add to cart, add to cart! I see so much potential with this sweatshirt. Leopard, pinstripes, patterns, etc. You name it, it will probably match. Can't wait to have fun with this one! Is it as nice and structured as Phillip Lim's. Well no. Cheaper fabric, looser cut, but also only $28 after the discount. And for now, that's what I can afford.
Loft short sleeve sweatshirt. Buy it
here
.