I've been wanting to wear this shirt for awhile now. I've had it for months. And although leather isn't allowed at my work, I thought I could get away with a little panel of it on my skirt (it repeats on the back as well). I bought this skirt on eBay as I was doing an extensive search on leather skirts to replace my faux leather skirt that ripped the first time I wore it. So sad. But I actually like this one much better. And since no one accosted me at work and threatened to send me home for clothing abuse, I think it's safe to wear it again.
Hope everyone's weekend was good. My friend Mike and I went down to Sarasota for the opening of Trader Joes. They are finally breaking ground and expanding in Florida. I was so used to popping into my local TJs about 10 mins from my CT home when I wanted their great frozen appetizers. Now it's an hour drive to and fro. I stocked up on my favorites (croissants, feta cheese and caramelized onion tartlets, broccoli and cheese quiche, organic brown rice, and chipotle baby potato skins) and waited about 20 minutes in a line that snaked around the aisles. The good news is that I can now buy wine in stores and was finally able to buy some "two buck chuck." I haven't tried it yet, but hope for $2.99 that it's fairly decent.
This has also been the first weekend that I have actually had some down time. I took a nap Saturday afternoon for the first time in about 6-8 weeks. And I think my doggie has enjoyed a little one-on-one mommy time without me running off here or there.
I also got my Florida plates and driver's license. So it's official. I'm a Floridian again! And the beauty about not having any furniture yet, I can choose any bare wall in the apartment to snap pictures in front of. Going outside during August and September in Florida does not result in the best of pictures. Mainly because I start to sweat and my hair frizzes up. Not a lovely picture combo.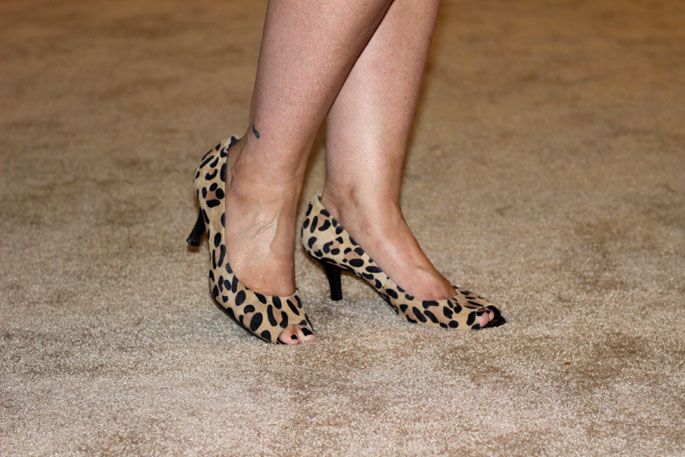 {Skirt: Ann Klein via eBay | Shirt: Vera Moda via Asos | Shoes: JCP | Necklace: eBay | Lipstick: Nars Dragon Girl}