It's time to spice things up at work cause this outfit and the one before it are just too conservative for my taste. I don't feel like myself. I feel drab. Monday's outfit was fine because I needed to play it safe and today's outfit was just 'eh.' So tomorrow, I'm gonna start dressing like myself again. Time to add some cool patterns to the mix.
I will tell you that it's hard to do outdoor morning shots in muggy weather. It typically rains on and off during the day so in the morning, everything is wet and the camera fogs up. I may have to keep taking indoor shots until my location changes in September. I apologize for that as I prefer natural settings.
The good news is that we are moving into our new (remodeled) apartment on September 5. It's five minutes from work. Very grateful to my sister, Rachel, for letting me camp out in her spare bedroom for three weeks. I know it's hard having company for that long. Good thing we are close and can speak our minds to one another without offending each other too much. And Woozie is adapting remarkably well to her new surroundings. Well, except for the loud booms of thunder that she hasn't heard in years. It does thunder in Connecticut but nothing like Florida. Again, we just need to get past August and September and then we'll be good to go for the rest of the year.
And I figured out the tradeoff with daylight between Connecticut and Florida. In Connecticut, it starts getting light out at 5:45 AM. This morning, it started to get light around 7:10 AM in FL. So I'd rather have the extra hour and a half of light in the evenings when we turn back the clocks than the extra light in the mornings. Especially since I'm so not a morning person. But I am trying something new at work. I'm typically a 9-6 gal. I like my sleep. But I've realized over the last two days that I also like getting out of work early and having some evening time. When hubby moves down, I'll be able to come home, cook dinner, and go work out with plenty of time to spare for relaxing and unwinding in the evenings.
So speaking of working out. About a week before I moved down here, I found out that my gym 'Lifestyle Family Fitness' went under. Was bought up by LA Fitness, which I detest. The main reason is that they don't offer Les Mills classes. I was sooo looking forward to coming back and picking up where I left off with Body Combat and RPM. I like a structured spin class that starts and ends on time with no more than nine songs. It's interval training that lasts 45 minutes, which is about all I can do. I can't stand spin classes that go on for an hour and 15 minutes. I get bored. And my beloved Body Combat class. Techno music with martial arts. Only it's not a kickboxing class. I don't have to hit a punching bag or run around in circles or battle other folks. It's more of a coordinated dance move class that doesn't require me to shake what my momma gave me. I get to throw jabs and hooks and kicks without looking like a floozy. So there's one gym about 10 minutes from my sister's house that still offers the Les Mills classes and I'm going to attend Thursday evening. I can't wait to get back to working out.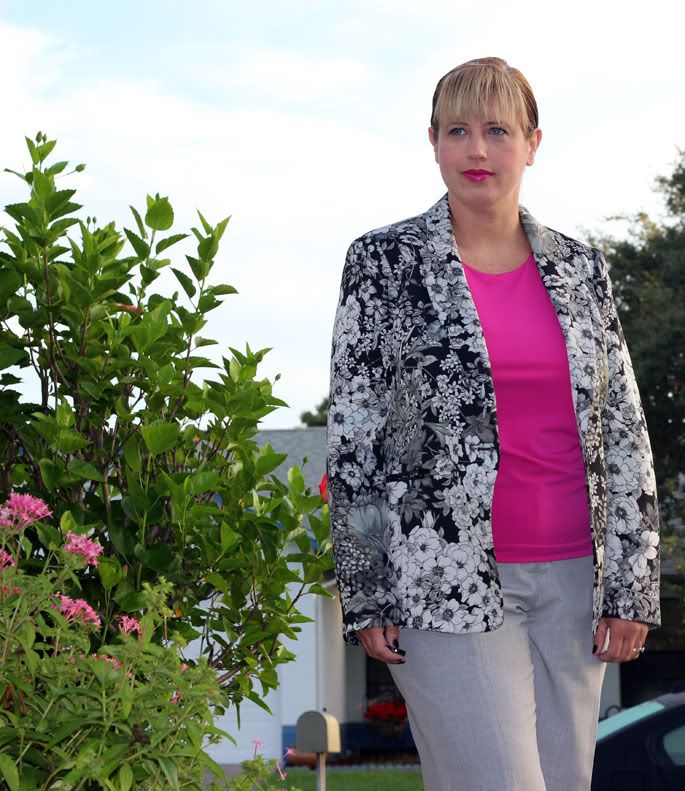 {Blazer: Zara | Tank: Ann Taylor | Pants: Loft | Shoes: Franco Sarto | Lipstick: MAC Girl About Town}