Last Saturday I took a final load of clothes to the consignment store. As I was fishing in my wallet for my account number, I noticed I still had a group of $1 'bucks' to use at the store. Every time you consign items, you get these little green dollars. I had accumulated six 'bucks.'
Looking through the racks of clothing, I wasn't really feeling any of the items and was about to give up and be a do-gooder by 'passing on the buck' to someone else when at the bottom of the shoe shelves, these little ballet flats caught my eye. I couldn't believe what I saw when I inspected them. They were brand new, size 8 Tahari ballet flats for $12! What the what?! I walked out of my consignment store for the last time with the best find and deal I had ever gotten there. That was a nice send off!
And I'm terrible at buying clothing and then letting it just hang in my closet for months. I've had this jacket and dress (both from H&M) since I went to NYC in the spring. Bad fashion blogger, bad! I hate it when I follow a fashion blogger who is modeling an "old" Zara blazer or dress that has caught my eye but I can no longer buy. And here I am doing the exact same thing. I will try to improve on that for you in the future. However, with the move to FL, you'll be seeing a lot more remixing going on with my clothing until we get settled over the next few months.
I wish I could be better with clothing budgets or just budgeting in general, but I'm more of an impulse clothing shopper. I'm not like other fashion bloggers who can look in their closets and say, "well this month I think I'll incorporate pink jeans, a navy skirt, and a polka-dot button down." While I think it's great that people can do that, it's just never been my style. I like finding
unusual pieces
that I can make work with my existing wardrobe, hence why clothing may hang in my closet for six or more months waiting for their mate to show up. For me, clothing is art. It's a way of expressing my personality and moods. I may feel completely different about those pink jeans that I had to have, and budgeted for, at the beginning of August that now seem unimportant since I spotted the next must have item.
There will always be the 'next best thing' in clothing. Clothing is dynamic. It's ever-changing and evolving. That's what's fun about it. Yesterday, my clothing 'mood' was dark and pensive. Today, it's fun, playful, and sophisticated. And while you can have a general monthly clothing budget that isn't specific to what you will acquire during the month, but rather how much you allocate during a specific time period, you may end up missing out on a really great deal or one of a kind item. For example, when J. Crew introduced their porcelain paisley
dress
and
skirt
, I knew I wanted both pieces. I just didn't know when they would be marked down and if I'd be able to get my hands on them. I was able to get the dress on sale in my size but I had to have the skirt hunted down by a J. Crew rep. If I had exhausted my clothing budget before the items went on sale, I would have missed out on an awesome pattern that sold out very quickly.
P.S. Go now to the dress link I provided above. They've restocked up to size 12. Sorry, no more skirts.
But onto today's outfit and my fabulous $6 shoes!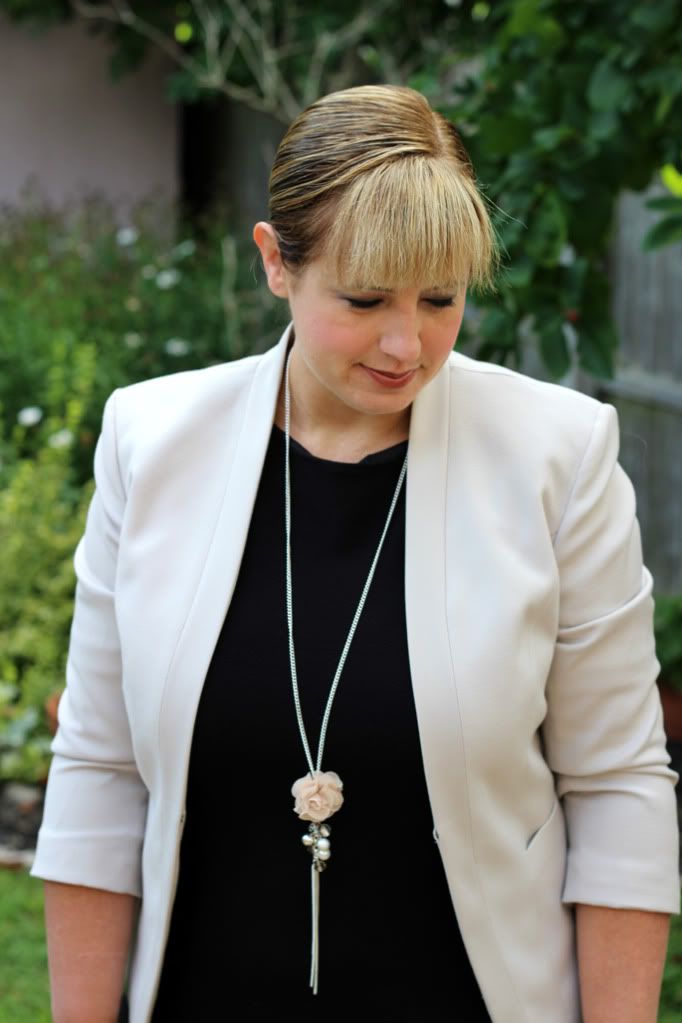 {Dress: H&M | Blazer: H&M | Shoes: Tahari. Similar
here
. | Necklace: Old Navy}