Let's talk about this dress first before we get into the hair. Do you remember a couple of months ago when J. Crew introduced their cute white and navy polka dot dress? And I believe it was around $150-200? Well this ain't that dress. It's a $40 version from JCP.
"Come see the softer side of S..." Oh wait. That's Sears' slogan. What's JCP's? "Come see the Grecian side of Ellen." No, that's not it either. "Come see we have no more sales or coupons?" Yep. That's it. I believe Donny Deutsch spoke about JCP's new flat pricing structure on the Today show. To paraphrase, he said it was a poorly executed strategy. Personally, I loved getting those $10 off $10 purchase coupons in the mail. That's how I scored these
leopard pumps
for $6! JCP's flat pricing structure blows in my opinion. In a downed economy where you have shows about extreme couponing, why in the world would a company think eliminating coupons and sales is the smart choice? Ahhh, maybe it's because those higher ups have never had to use coupons for food, clothing, etc. While I'm all for making purchases simple, it was just the wrong time to introduce a flat pricing structure. So bring back the sales and coupons, JCP, before it's too late.
Okay, on to the hair. While I love the top knot look on celebrities and fashion bloggers (albeit it's a bit overdone), I am not able to duplicate the look. I bought the sponge donut but I simply don't have enough hair to pile it all on the top of my head. And while my hair is thick, it's very fine so I would have to bobby pin it down like mad. That's just too much work. So I bought another
foam bun maker
off eBay. I put my wet hair in a ponytail, slide the small, vertical foam bun maker through the ponytail, pinch it together, roll my ponytail up and forward, and then fold the ends of the bun maker under the bun. Wha-la! Instant ballerina bun. It's not perfect, but it works. I can definitely do a mid to low-level bun, just nothing too high.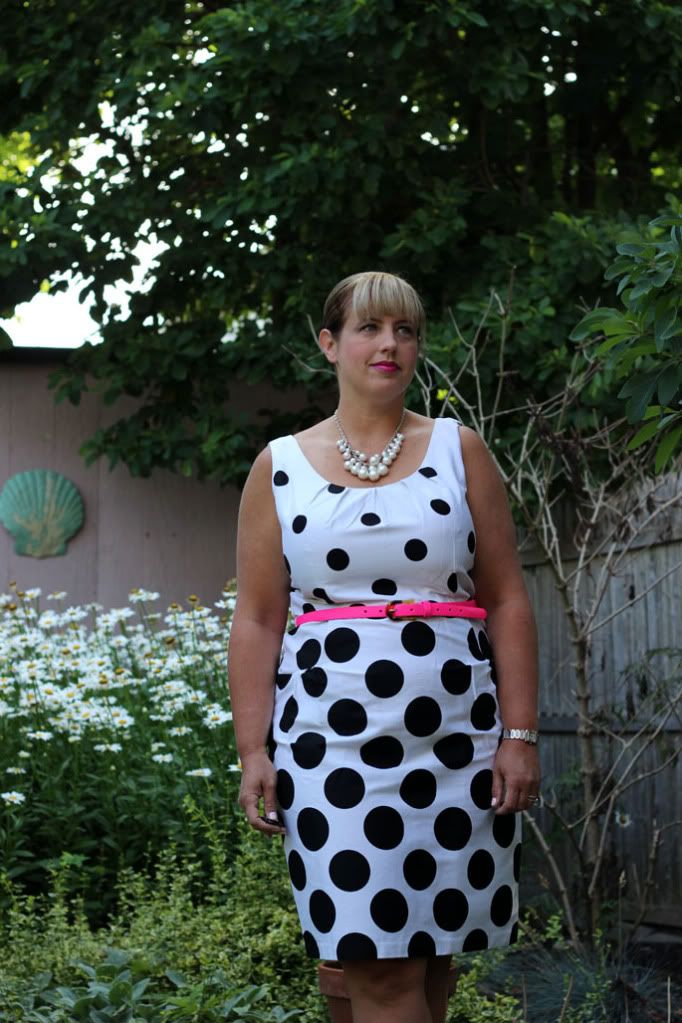 {Dress: JCP. Buy it here for $20! | Shoes: J. Crew. Buy them in black or leopard. | Belt: Urban Outfitters. Buy it here. | Necklace: Thrifted}