Everything... in it's right place.
So psyched to be seeing Radiohead Friday night. We're taking the train into NYC, hopping on a party bus that will shuttle us over to the Prudential Center in Jersey. Taking a nice bottle of red (with twisty cap, of course) on the ride down and over. We don't have to worry about driving through NYC traffic or finding parking, which I hear is outrageously expensive at the Prudential Center. Every time "King of Limbs" studio sessions comes on Palladia, hubby and I can't resist watching it. We've been Radiohead fans for a long time (1994) and this is the first time we've seen them in concert. Unfortunately our tickets are nosebleed but they have sold out all their venues, so we had to take what we could get. On a side note, a word about buying popular concert tickets on Ticketmaster. Hubby and I share the wifi connection at home. We both were trying for tickets as soon as they went on sale months ago. We were both getting long wait times. So I decided to try on my iPhone over the 3G connection. That's how I got the tickets. I later read that if you have more than one computer trying to access Ticketmaster for tickets, forget it. It won't work. We probably would have gotten the tickets had just one of us tried to access the Ticketmaster site from our home computers.
So this is so not the outfit I'm wearing to the concert. Because I post one day in advance (I'm writing this post on Thursday and you will see it on Friday), I'm showing you the outfit I wore to work. In tomorrow's post, I'll show you what I wore to the concert. And hopefully on Monday, I'll have some iPhone images of the event. I'm pretty sure I won't be able to take the fancy smancy camera with me. Nor would I want to. I'll probably drop it or lose it after a few glasses of vino.
I got this blouse in NYC (here's the post) at Joe Fresh. I'm really wanting to go back to the flagship store as I've seen some cool, new items in magazines. So maybe I'll go in late June or early July. I have an upcoming Florida trip in two weeks to see my family for birthdays and Father's Day. My new photographer for the long weekend will be my baby sister.
The skirt is from Anthropologie. I spotted it in NYC during the holidays and ordered it online. I paid full price because as I suspected, the larger sizes went quickly. Because I'm rather hippie (no, not Woodstock hippie) and I have a big rear, I had to keep the last button undone on the blouse for a little breathing room. You won't see me in a lot of button down blouses for two reasons: gaping near the breasts and too tight near the hips. This blouse is a size L. They had XL but it was swimming in my shoulders. I have narrow shoulders and broad hips. So even though I'm anatomically correct, I'm not proportionally well made.
And lastly, I left the very last picture completely untouched (yep, forehead lines and all). Yes, I really am 40. I'm flattered by those who said I look younger. You made my day!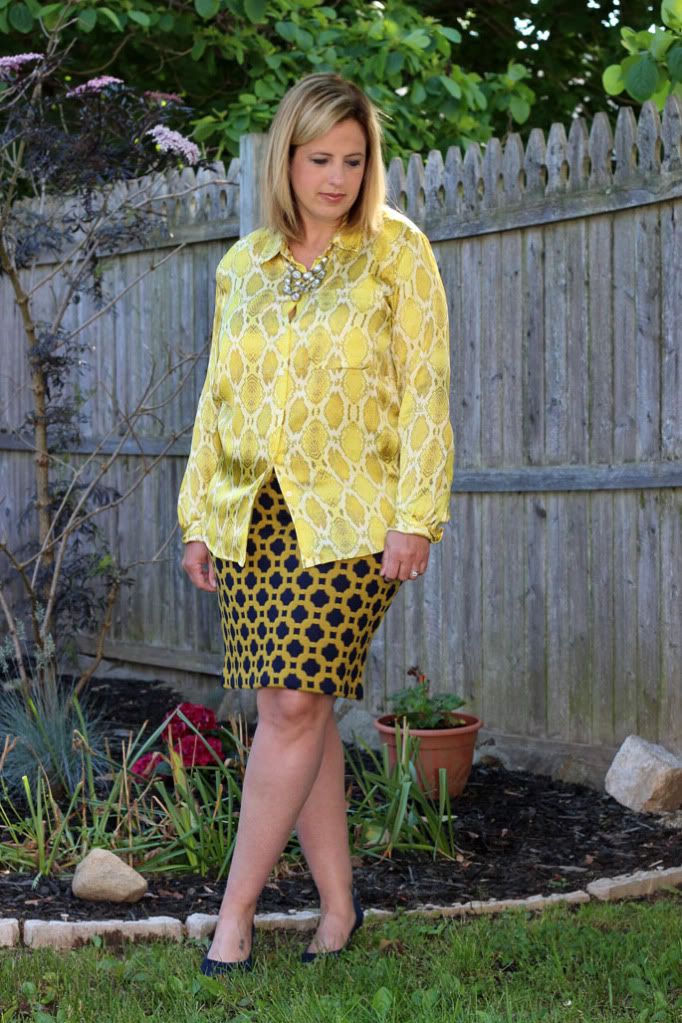 {Blouse: Joe Fresh. Similar here. | Skirt: Anthropologie | Shoes: Nine West Andriana. Buy other colors here. | Necklace: J. Crew | Lipstick: MAC Half n Half. Buy it here.}