Remember last week when I said I love shopping for jeans about as much as I like shopping for bras? Scratch that! Move swimsuit shopping to the top of my sh** list. Hubby and I leave in less than two weeks to go to Austin. The hotel we are staying at has a lovely pool that I plan to bask at while he's in meetings with his boss and coworkers. I can see his face wrinkling with jealously as I type this. Sorry, honey!
So since none of my big girl swimsuits fit anymore, I decided to spend a dreary Saturday in the mall trying on swimsuits. Yay. As a side note, when it's dreary in Connecticut, it can last for days. We can go a week without seeing any sunshine. It drives me bonkers. So I started at Sears because I saw some cute Land's End swimsuits online and in a recent catalog. Unfortunately, none of those cute suits were in the store. I did, however, scoop up a pair of awesome Land's End white ankle jeans (I'm smelling another theme week coming up). I also found a pair of very flattering blue jeans. The great thing, despite my horrible wing and cheesestick eating habit this past week, is that I no longer have to size up in the jeans department anymore. My jean size is now the same as my pant size. Whoo hooo!!!
So I spent four hours combing the Connecticut Post Mall in search of a swimsuit that supports my heavy girls, disguises my tummy pooch, and doesn't make me look like I'd make better time rolling to the pool.
I went to Target, Penney's, and finally Macy's before finding a "suit"able option. I bought this Ralph Lauren tummy control swimsuit (sans the skirt) in a size 12. It gave me ample support up top, created the illusion of a six pack (no! but it did help in the tummy area), and the square neckline was very flattering on my narrow shoulders. Although I can't find the exact swimsuit online, this one is the same except for the cute, little skirt. And yes, that is me modeling it.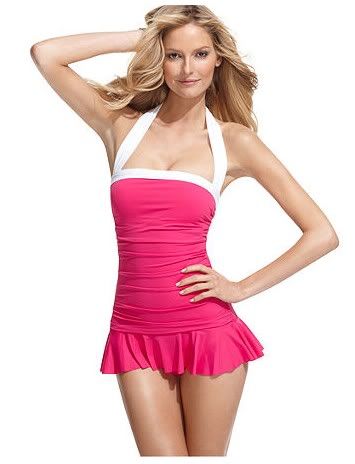 {Ralph Lauren Halter Ruched Tummy Control Swimdress. Buy it
here
.}