It's theme week again!! Get ready to see a lot of my butt this week 'cause I'm pulling out the jeans. A lot of the jeans I'm wearing this week have been seen in my posts before. But I'll shake things up by pairing with different tops, etc. I'll also add a couple of new pairs into the mix.
So let's ease into this with a new pair of classic blue denim. I am loving these jeans! In the past I've had to go up one size in my jeans compared to my pants size. That's no longer the case, so I'm pretty stoked about that! While painfully searching last weekend for swimsuits for our trip to Austin (we leave this coming Saturday), I ended up finding not one, but two pairs of jeans at Sears of all places. Had I found an identical wash in this pair of Inked & Faded jeans, I would have scooped up two pairs. And you're gonna love this - $19.99! So I went online and ordered another pair.
These are the Classic Skinny jeans in a dark wash (they make curvy and flare cuts too). I love the yellow contrast stitching on these along with the slight distressed look. I also love that they don't have any tacky embellishments or rhinestones on the pockets. These are perfect for work, so comfortable (spandex!), and I'm not pulling them up all day long. They actually fit like NYDJ. They do, however, have a slight chemical smell. Or maybe it's just a Sears smell. Hopefully that will come out in the wash. I haven't washed them yet and I won't dry them in the dryer. If they change at all in the wash, I'll be sure to let you know. But for $20, I can't complain!
I bought this Zara neon yellow shirt in NYC. It's an XL. I have a similar one in green (seen here) and this yellow one is constructed out of the same thick fabric, but with cute layered shoulder details.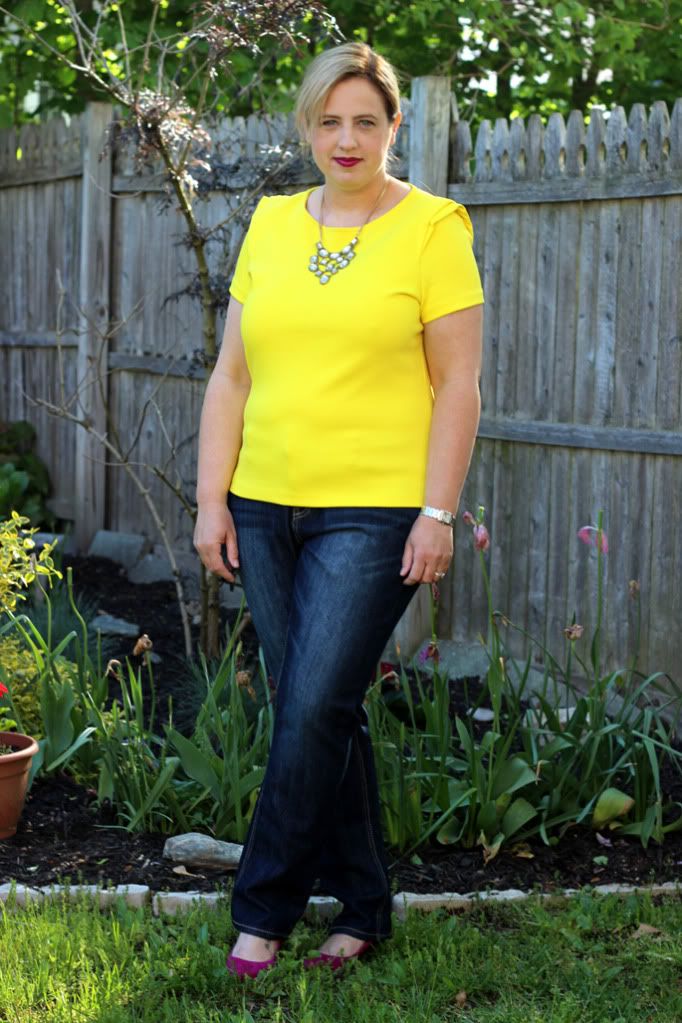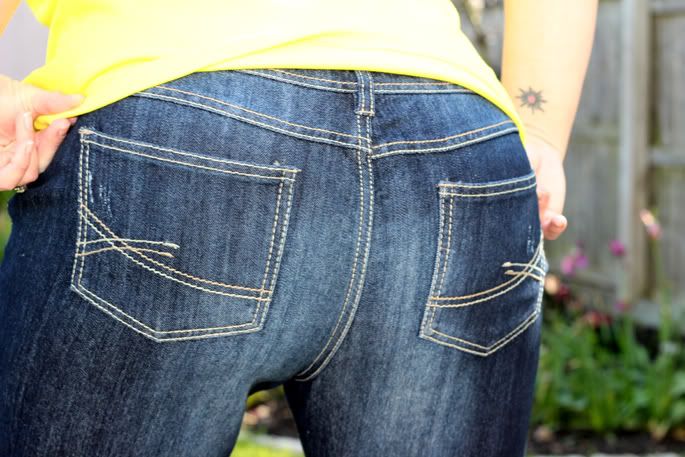 {Jeans: Inked & Faded. Buy them
here
. | Top: Zara. Buy it here. | Shoes: Nine West Andriana. Similar here. Buy other colors here. | Necklace: J. Crew | Lipstick: MAC Rebel. Buy it here.}