When the weekend rolls around, the last thing on my mind is dressing up. I just want to be comfortable. And most Sundays I'm in a tee and sweats sans makeup. But since we were going car shopping, I thought I'd dress up a little but still remain casual and comfortable.
When I saw these
perfect sea foam green pants on Egyptomaniac's site
, I knew I had to have them. They actually are more of a mint color, which is fine with me as mint jean/pants are rather hard to find in my size. I thought the mint trend might be over before I can even find a pair! I've been searching skirts and pants in this color for the past few months. They fit very well (but won't be going in the dryer) and come down to the tops of my feet (as most ankle pants do on me). But now that I have them, I'm not quite sure what to pair them with. I'm sure I'll come up with some other options down the road. I have a few pink tops that will go quite nicely with these, but for now I kept the look simple with a denim shirt from H&M.
I've had these Ash gladiator sandals for a couple of years now. I wanna say I ordered them from Shopbop, but I'm not certain. The unfortunate thing is that this is only the 2nd time I've worn them. The reason being is gladiator sandals are not the most attractive shoe choice for a heavier woman carrying weight in her legs. They cut off the slimmest part of the leg (ankle) so that the leg just looks like a large tree stump. So they stayed in the closet until recently. They also aren't the most comfortable for my feet. I can't wear ballet flats or any shoe that is completely flat because of my plantar fasciattis.
I decided to change up my makeup a bit today as well. Normally, I go for my winged eyeliner and bright lip. Wanted a bit of a smokey look today. But I just don't feel like my normal, happy self with nude lips and dark eyes. It's just not me anymore. I've grown accustomed to my pinup makeup. Creating wings are second nature to me now. And changing up the lipstick is all I have to do for a new look.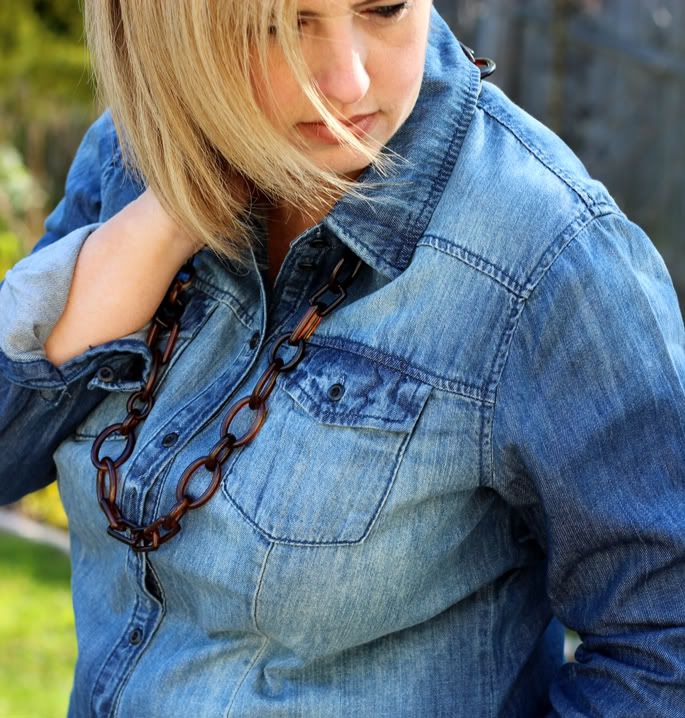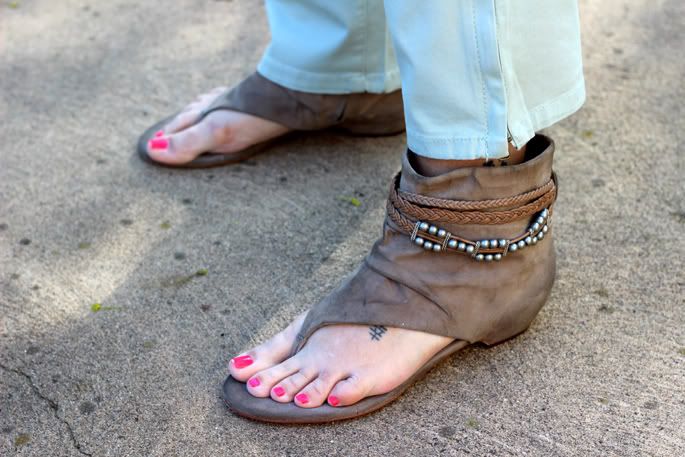 {Denim shirt: H&M. Similar here and here and here. | Pants: Talbots. Buy them here. Mint jean option here. Simliar plus size option. | Shoes: Ash. Similar here. Cute metallic ones here and here. | Necklace: J. Crew. Similar here and here. Cute in turquoise here. | Watch: Cartier. Buy it here. | Lipstick: MAC Half 'n Half. Buy it here.}