I am so looking forward to warmer weather. Lounging around in t-shirts and shorts and soaking up some sun. Being able to take walks again in the evenings, cooking out on the grill, and dining al fresco with the hubby on our patio.
But I have to tell ya - after seeing what J. Crew has in store for Fall 2012, I cannot wait for those pieces to show up in the stores. There are two outfits that I WILL get my hands on when they hit the website. First up is this minty number with the fabulous brown faux fur coat. I know I can't walk in those heels and am still on the hunt for the perfect pair of mint shoes, but I will take everything else!
The other piece that caught my eye were these floral black and white pants. How cool are they?! And with those metallic shoes. So glad to see the mint and metallic trend are going to continue all year long.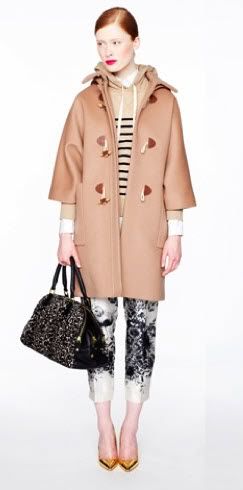 Until these pants are available, I found a nice substitute in the Zara skirt.