So the hubby has a 3-day class in the city this weekend and I'm looking forward to joining him on the trip and then going about with my day. I love hopping on the Metro North train and going into the city. I make it in about every three months. The proximity to NYC is what prompted my husband and I to move up here. We were deciding between Chicago (my favorite city) and New York. I knew if I was convincing my mid-west husband (then boyfriend) to leave The Sunshine State for me, I'd have to pick the city he loved most. So our compromise was New York. Not a bad compromise!
I have everything planned out for Saturday's trip (I'm a planner, list maker, and type A personality). I'm armed with my camera and will share my adventures with you soon. And while I would love to dress up in the city, I just simply can't from a functional standpoint. I walk everywhere. I don't take the subway (can't figure it out) and taxis get expensive, so I hoof it all day long. My shoe choice is usually my Dolce & Gabbana boots with padded inserts or FitFlops (my feet are usually black when I get home and I immediately run to the shower).
First up - Joe Fresh on West 34th St. I've been seeing ads in my fashion mags for this store. Their site is not the best and you can't buy online (hopefully that will change). I also have no idea how their sizes run. Most of their stores are located in NY. Can't wait to get there and check out the following:
Of course I may have to venture into Macy's while I'm on 34th. I've only been there one other time with my sister-in-law over Memorial Day last year. At the time, I just started Weight Watchers so about the only thing I was interested in shopping for was shoes. You can really get lost in this Macy's with all the floors (9)!
After hitting up Macy's, I'm going to Zara. We only have one Zara in Connecticut and it's 45 minutes away. Since their sizes run rather small, ordering online hasn't always been a success for me. I'd much rather visit the stores in NY to try things on.
Next up - A little bit of vintage shopping. I'm not familiar with vintage/second hand/thrift stores in the city so I did some research and decided on these:
Housing Works Thrift Shop
While on 23rd street, I'm going to check out Eataly and hopefully grab some lunch. I've been to Chelsea Market and I'm thinking this may be very similar.
I can't leave NYC without grabbing a couple of bags of my favorite cookie mix and sampling the new Bacon Smack cookie at Milk & Cookies in the West Village. I first discovered this cute and tiny bakery while on a Greenwich Village walking tour with my sister and her husband a couple of years ago. We traversed this part of New York in the pouring rain in the cold March weather while my sister was five months pregnant. Ahhh memories. I always grab a few bags of their chocolate chip cookie mix. Beat with an egg and a stick of butter, bake for about 18 mins, and you have some pretty decadent yumminess.
Not traveling to NYC and still want the mixes? No problem. They have an online order form or you can call them and they ship them to you. I've done it for my sister in Florida.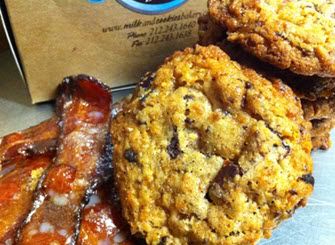 When hubby is done with his class, I'll meet up with him and we'll grab a bite to eat at Stand Burger. I've been lusting after their Toasted Marshmallow Shake for a long time now. Can't wait to try it. See why I walk all over Manhattan? Cookies, shakes, burgers, Italian food. Uh huh.
I almost forgot about a trip to replenish my bath soap. Ever since discovering Sabon on Spring Street a couple of years ago, I don't use any other liquid bath soap. I've never been a fan of flowery scents. In fact I tend to go for the clean, fresh scents like Issey Miyake perfume or anything that is clean and crisp. But I just adore my Rose Tea Shower Oil. It's not overly scented like something you would find at the bath stores in the mall. Even better is Sabon ships all over the US. And if you follow them on Facebook, they even have free shipping promo codes from time to time.
So that's my trip in a nutshell. We'll see if I get it all done.