My day job is working in an accounting software firm as a technical writer. There are less than 25 employees in the small office I work in. Most of them are male software developers. Of the few women that work in my office, fashion is not high on their list. One co-worker and I share a love of Anthropologie and J. Crew (thank goodness). Without her, I don't think I'd have lasted as long as I have in this place.
While I would love to dress most days like Bee on
Atlantic-Pacific
, the industry I'm in, type of work I do, and scale of the company I work for just wouldn't make sense. I would feel extremely overdressed and out of place. I think my fellow co-workers are getting used to seeing me in skirts and heels as I rarely wear flats anymore. I try to keep my wardrobe work-place professional and add in a pop of color, a touch of edginess, a little color blocking, or some other cool feature that won't make me feel or look too much like the Sesame Street character that isn't the same as all the others.
My first sign of fashion transformation started with my winged eyeliner and bright lip that are now daily staples. As the weight came off, I bought a few things from Forever 21 and H&M - stores that had previously been off limits to me. I then started browsing all the wonderful pieces from asos.com, as well as going back to my favorites - J. Crew and Anthropologie.
So when I was in New York over the holidays with my co-worker, I saw this lovely gold and navy art-deco skirt in Anthropologie. They didn't have my size and like most items in my size, I knew if I didn't snatch it up online, it would be gone when the sale rolled around. And I was right! To tone down the skirt and find a 'balance' between fashion world and corporate America, I paired the skirt with a simple denim shirt I found at H&M.
*I took some creative liberties in Photoshop by blurring the background since I wanted to focus on the outfit.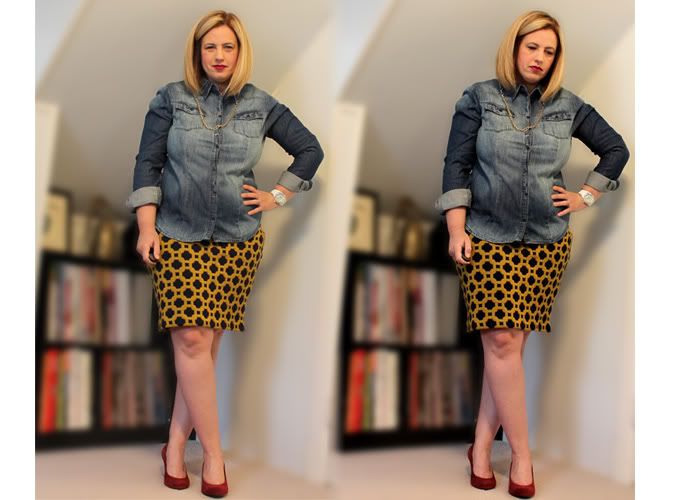 {Shirt: H&M | Skirt: Anthropologie | Shoes: Arturo Chaing - Lord & Taylor | Necklace: J. Crew | Bag: Paul's Boutique. Buy it
here
. | Watch: Guess}